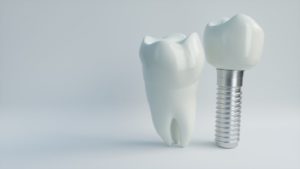 According to the American College of Prosthodontists, about 120 million Americans are missing one or more teeth. What's more, at least 36 million don't have natural teeth left. If you're part of these statistics, you may have thought about rebuilding your smile with dental implants. While implants can replace any number of missing teeth, they admittedly come with a higher price tag than traditional bridges or dentures. Can you expect your dental insurance in Casco Bay to cover the cost? Keep reading to find out.
Are Dental Implants Covered by Dental Insurance?
While each individual plan differs, dental insurance coverage generally looks something like this:
Preventive and diagnostic care is covered at 80-100%.
Restorative treatments are covered at 50-80%.
Cosmetic procedures are not covered at all.
When it comes to restorative care, though, your insurance is most likely to cover the least expensive treatment that will solve a specific dental problem. In terms of replacing lost teeth, dentures and bridges typically cost less than implants, so they're more likely to be covered. However, dental implants offer countless advantages that alternative options simply cannot deliver.
Why Dental Implants Are Worth the Cost
Here are some of the numerous benefits of investing in dental implants in Casco Bay:
Staying firmly in the jawbone to prevent your replacement teeth from slipping out of place
Replenishing almost all of your original biting and chewing force
Looking and feeling just like your natural teeth
Having the potential to last for 30+ years
Being easy to maintain – just brush, floss, and visit your dentist for routine checkups and cleanings
Because of these benefits, the vast majority of people with dental implants have gone on to say they were worth every single penny.
How You Can Pay for Dental Implants
If your insurance won't pay for dental implants, or you're uninsured, there are other ways of funding this treatment. Most dentists can help you apply for a low-to-no interest loan through a third-party company such as CareCredit. That way, the cost can be broken up into manageable monthly installments.
Even if your insurance doesn't cover the cost of dental implants, they might help lessen your out-of-pocket costs of other aspects of the treatment, such as bone grafting or your custom-made restoration. The only way to definitively know how much coverage you qualify for is to speak with a member of your dental team. They can help you figure out the best way to fit this life-changing treatment into any budget!
About the Author
Dr. Rob McVety earned his dental doctorate from the University of Connecticut School of Dental Medicine. As a member of the American Academy of Implant Dentistry, he can perform every step of the dental implant process in his office, from the initial placement to the final restoration. His practice welcomes all PPO dental insurance plans and can help you apply for a loan through CareCredit if need be. To learn how you can afford dental implants, visit his website or call his office at (207) 517-7008.