Different Types of Cosmetic Dental Procedures
Smile Brighter, Live Better
Your smile should showcase the unique personality and vibrance within – but what if instead, you hide your mouth every time you're faced with a camera or mirror? Even healthy teeth can end up with frustrating imperfections like chips, cracks, stains, and more. At Casco Bay Smiles, we want to help you overcome them with the perfect cosmetic makeover plan. Dr. McVety offers several services that can dramatically refresh your appearance and renew your self-confidence at the same time. If you're interested in learning more about your options, schedule a consultation today in Falmouth, ME.
Why Choose Casco Bay Smiles for Cosmetic Dentistry?
Advanced, Lifelike Restorative Materials, Including Emax and Amann Girrbach® Zirconia
ZOOM! Teeth Whitening Technology
Invisalign® Orthodontics – No Metal Wires Or Brackets
Invisalign® Clear Braces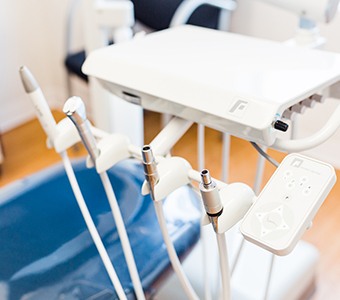 Today, adult patients no longer have to settle for traditional, unattractive braces if they want to straighten their smile. Invisalign is a more modern orthodontic approach that's subtler and highly image-friendly. Instead of brackets and wires, patients will wear a custom series of aligners, each one designed to represent a different stage of their teeth as they're gradually shifted. Invisalign aligners are clear and difficult to notice when worn; they're also fully removable, which means you can continue to enjoy all your favorite foods throughout the treatment process without worry.
Porcelain Veneers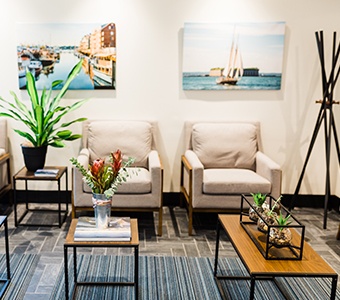 If you are interested in a complete smile makeover, be sure to talk to Dr. McVety about porcelain veneers. This style of restoration is crafted to be extremely thin in nature – thin enough that it can fit over the visible surfaces of requested teeth like a shell, completely transforming their appearance in a very natural-looking way. Many patients even use veneers as "instant orthodontics," correcting misaligned teeth and noticeable gaps in a few short appointments instead of months or years. Our practice also offers Lumineers, which is a specific brand of veneer that does not require any significant alteration of the natural dental structure.
Metal-Free Dental Crowns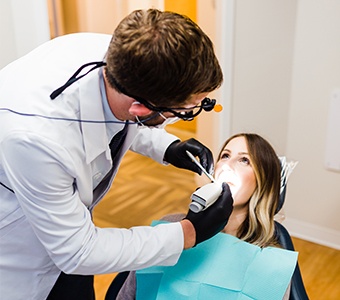 Today, patients no longer have to settle for dark-colored silvers and golds when restoring a damaged tooth. At Casco Bay Smiles, Dr. McVety uses top-tier dental ceramics whenever possible that are entirely free of metal, including proven brands like Emax and Amann Girrbach® Zirconia. Not only are these crowns stunningly beautiful and natural-looking, but their biocompatible nature is also very comfortable in the mouth and even safe for patients with proven sensitivities to traditional dental materials.
Dental Bonding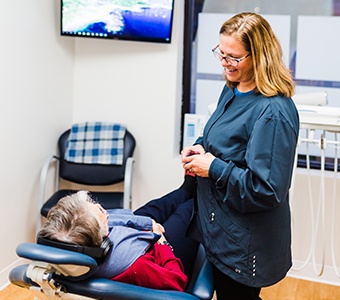 Even the smallest dental flaw can still draw your attention in the worst way as you go about your daily routine. To treat frustrating stains, gaps, and chips in record time, consider cosmetic bonding at Casco Bay Smiles. This procedure only takes a single appointment in most cases. Dr. McVety will apply tooth-colored composite resin to the area of your smile in question and artistically sculpt it into a conservative, subtly attractive addition that hides the offending spot from view.
Teeth Whitening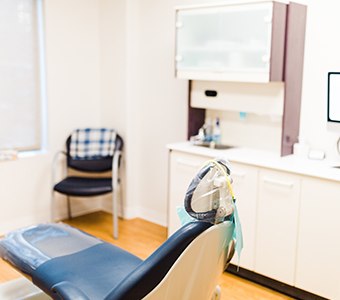 Over the years, even the healthiest teeth can fall victim to dullness, discoloration, and dark staining. If you've tried over-the-counter whitening products at your local pharmacy to no avail, it's time to invest in professional treatment here in Falmouth for stunning improvements. ZOOM! Teeth Whitening is our preferred brand of choice, which combines a modern heat and light-emitting mouthpiece with high-strength whitening gel. This style of whitening is especially useful for patients who have struggled with painful oral sensitivity in the past.
Gum Recontouring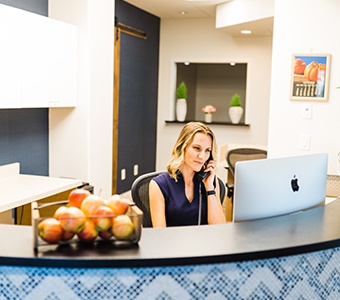 If you feel that your smile looks too short, uneven, or simply "gummy" in appearance, an aesthetic gum recontouring procedure may be the right choice to boost your self-confidence. We'll use a state-of-the-art diode soft tissue laser to sculpt your natural gum line, removing excess tissue and revealing beautiful dental structure that was previously hidden to the world. Better yet, the precise touch of this modern technology will minimize any bleeding and help you stay completely comfortable throughout the procedure.
Digital Smile Design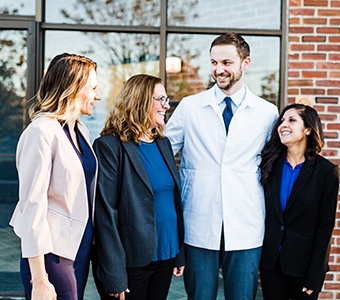 When planning a cosmetic makeover, we want patients to feel wholeheartedly confident about the results that are waiting for them at the end of treatment. That's why Dr. McVety uses Digital Smile Design to show patients the positive changes of certain services before they ever settle into the dental chair. All he needs is a current photo of you with your teeth showing, and he can adjust the image to reflect what could happen with professional teeth whitening, porcelain veneers, Invisalign, or other beautiful options. You can even take your photo home and think about what you see before making a decision or share it with friends to get second opinions!
Understanding the Cost of Cosmetic Dentistry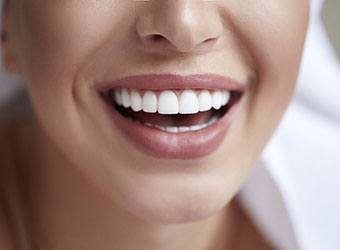 With our wide variety of cosmetic services, we can help you smile brighter and live better! Naturally, your next question may be "how much does cosmetic dentistry cost?" After all, dental insurance typically does not cover cosmetic treatments. Thankfully, your new smile may be far more affordable than you realize! When you visit us for your initial consultation, we'll discuss your goals for your smile with you and take a look at your teeth before recommending which treatment(s) may be right for you. We'll also be able to give you personalized estimates for each service so you can make a well-informed decision. Read on as we go over some of the most important information about the cost of cosmetic dentist in Falmouth.
What Cosmetic Dental Service is Right for Me?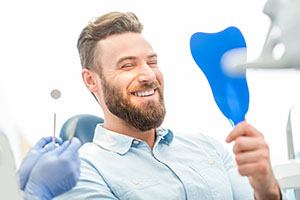 In general, there are three different types of improvements people aim to accomplish with their smile: whiter teeth, straighter teeth, or differently shaped/sized teeth. Depending on what kind of results you're going for, our experienced team can help you navigate all your options and their price points. Here is a basic overview of our most popular cosmetic services and how their costs compare:
Teeth Whitening – One of the quickest, easiest, and most popular options we offer is teeth whitening. This fast, relatively inexpensive treatment can dramatically improve the color of your pearly whites, but cannot help with tooth shape or position.
Direct Bonding – Direct bonding is an excellent and cost-effective way to cover noticeable flaws, reshape teeth, and make any number of small changes to the appearance of your teeth. While it is one of the least expensive options available, it will need to be redone every few years.
Veneers – Veneers are undoubtedly one of the more expensive cosmetic services, but it can completely transform the appearance of one or more teeth with one comprehensive and easy treatment and has the potential to last for a decade or more with the proper care.
Invisalign – Clear braces can help patients with significantly gapped teeth, overcrowded teeth, and bite issues, giving you a more beautiful and healthier smile. However, Invisalign costs more time and money than many other cosmetic treatments.
Gum Recontouring – Gum recontouring can improve the appearance of your smile without touching your teeth, but instead reshaping your gums to reveal your natural smile! This mid-range procedure can have dramatic results, but will not ultimately change the size, shape, or color of your teeth in the end.
Cosmetic Dentistry Can Be An Investment Worth Making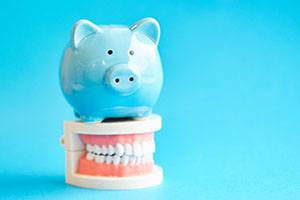 Many patients hesitate to get the cosmetic dental treatments they're interested in because of the financial commitment, but it's important to keep in mind that this investment in your smile will pay dividends as time goes on. If you feel self-conscious about your smile, cosmetic dentistry can improve your confidence and help you smile more, which can then lead to better relationships, a more meaningful social life, advancements in your career, and better quality of life overall.
How to Make Cosmetic Dentistry Affordable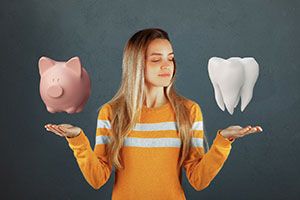 Even though cosmetic dentistry is not typically covered by dental insurance, your new smile can still be affordable. We're proud to partner with the third-party financing company CareCredit to help make the results you're looking for a financially achievable reality! CareCredit offers qualifying patients several low- to no-interest payment plans to choose from. Then, you can get the service you're interested in and break up its cost into smaller, more manageable monthly payments. To learn more and apply for CareCredit, contact us online or give us a call.
Cosmetic Dentistry FAQs
It doesn't matter if you've never had cosmetic dentistry performed before or you've gotten multiple treatments completed, Casco Bay Smiles is always happy to lend its knowledge to patients looking to enhance their smile. We've included a handful of the most common questions we've heard over the years, so you can check if your question has already been answered! If not, you're more than welcome to give us a call directly.
How long does cosmetic dentistry take?
The length of your cosmetic treatment (as well as the number of appointments you'll need to attend) largely varies on what your specific smile goals are. For example, some treatments can be completed in a single appointment (i.e. teeth whitening, dental bonding), while other procedures can take multiple visits or even months to finish (such as veneers, metal-free restorations, and Invisalign.) We'll always break down the timeline of your treatment based on how you want to enhance your smile, then confirm if it meets your needs before moving forward.
Does Invisalign affect my ability to speak?
When you're first getting used to wearing your aligners, you may notice that your speech is slightly altered. This is because your mouth is not quite used to having foreign objects inside of it. As a result, your oral structures will need some time accommodating aligners. Thankfully, this process does not take very long to complete. Your speech should sound normal after about a day or so of wearing the aligners continuously. With that said, it can be helpful to practice a few speech exercises to help you get used to them!
Is cosmetic dentistry only performed for aesthetic reasons?
Most of the time, cosmetic treatment is performed to make adjustments to teeth that are purely aesthetic. However, there are a few exceptions. For example, a metal-free restoration can work to prevent a tooth from cracking further while simultaneously hiding stains and chips. Gum recontouring can make it possible to have restorations placed and make your gum line more balanced overall. You'll get to learn more about the benefits of your treatment during your consultation at our office.
Does teeth whitening damage enamel?
While it can't be said how effective or safe certain teeth whitening products are, whether they are purchased in stores or online, professional teeth whitening is known for being very safe when performed by a dentist. Not only do professional bleaching treatments not damage enamel, but they can be implemented in a far more controlled manner.
Can my teenager receive cosmetic treatment?
It really depends on how developed your teenager's smile is. For example, teeth whitening is generally okay for teenagers, but we would not recommend veneers or Invisalign until they have reached a specific stage in their development. Performing treatment at too young of an age can cause problems with their smile, and our office always puts the oral health of its patients first.