Preventive Dental Care: Avoid Dental Problems & Save Money
Enjoy Lifelong Oral Health With Our Help
Achieving a healthy and attractive smile isn't a one-time accomplishment, such as winning a race – it requires routine maintenance, diligent oral healthcare at home, and the ongoing support of a trusted dental team. At Casco Bay Smiles, our team provides a wide variety of preventive services that can help your teeth stay strong, including comprehensive dental checkups, refreshing teeth cleanings, custom-made oral appliances made from a 3D printer, and more. Contact our dental office in Falmouth today to schedule your first appointment.
Why Choose Casco Bay Smiles for Preventive Dentistry?
State-Of-The-Art Technology & Materials
Modern, Spa-Like Office Environment
Experienced & Dedicated Dentist
Dental Checkups & Teeth Cleanings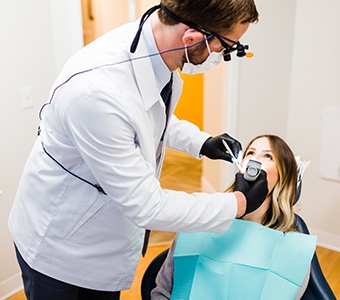 We strongly recommend that patients of all ages attend a professional checkup and cleaning every six months on average, or twice in each calendar year. These regular visits will give Dr. McVety the valuable opportunity to assess your oral health, pinpoint any signs of damage as soon as they arise, and recommend personalized therapy options that are a good match for your specific concerns. Additionally, a cleaning will eliminate dangerous accumulations of plaque and tartar from your teeth and gums, leaving your smile feeling nicely polished overall.
Learn More about Dental Checkups & Cleanings
Dental Sealants
The premolars and molars are located in the back of the mouth, and they have deep grooves in their chewing surfaces that are prime targets for food accumulation. That's why these teeth have a higher risk of developing cavities over the years. Thankfully, dental sealants can provide a strong barrier that keeps these vulnerable areas of the mouth much safer over time. The application process only takes a few minutes, and they can last for several years at a time.
Fluoride Treatments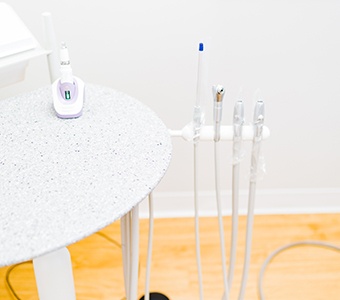 Fluoride is a natural mineral that can be found in the world all around us, and years of dedicated research has demonstrated a positive link between regular exposure and stronger, healthier tooth enamel that's less sensitive to decay. For an added boost of protection, the Casco Bay Smiles team can provide professional applications during routine cleanings. We also strongly recommend using fluoridated toothpaste daily.
Oral Cancer Screening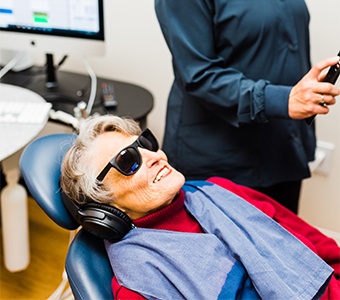 Tens of thousands of new oral cancer cases are diagnosed every year, many of which are already in advanced, destructive stages. Early intervention can make a world of difference for these patients, which is why our team has integrated oral cancer screenings into regular checkups. Dr. McVety will thoroughly review your oral tissue for discoloration, slow-healing sores, and other symptoms that may indicate abnormal cells. A biopsy can be arranged if needed to test the tissue further should any concerning findings arise.
Nightguards for Bruxism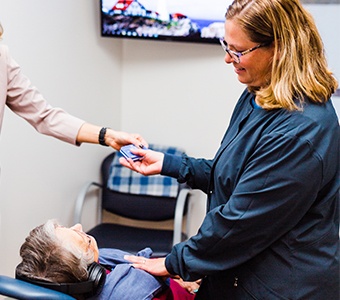 Chronic teeth grinding (also known as bruxism) affects patients of all ages, many of whom aren't aware of it because they only experience the effects while sleeping. If you regularly wake up in the morning with jaw pain or a headache, be sure to let Dr. McVety know. He can assess your smile for tell-tale symptoms of untreated bruxism and prescribe a custom-made nightguard that prevents harmful contact between the rows of teeth as you rest easy. Better yet, you don't have to wait weeks to get it – with his state-of-the-art 3D printer, same-day delivery is available for oral appliances!
TMJ Therapy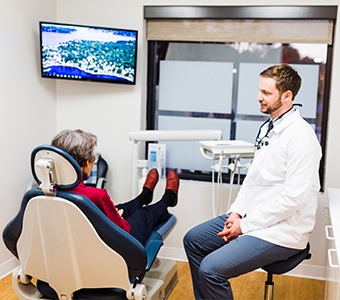 If severe jaw pain has become a regular part of your daily routine, you may be experiencing a TMJ disorder, which occurs when strain or dysfunction affects the jaw joints that facilitate chewing and their surrounding facial muscles. Dr. McVety can review your oral structures to provide a diagnosis and also recommend effective therapy techniques, such as custom-made occlusal splints. Lasting relief is possible!
Sports Mouthguards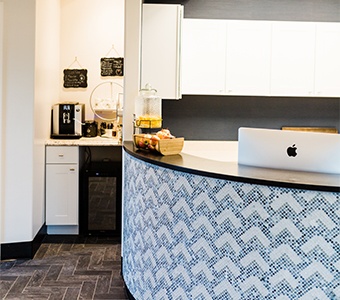 If you regularly participate in sports where physical contact with other players or hard objects is a possibility, it's important to keep the teeth safe from accidental damage in the same way that you would your head. Instead of buying a "one size fits all" oral appliance from the local store, we strongly recommend that you invest in a custom-made sports mouthguard from our Falmouth practice. Dr. McVety creates his completely custom appliances with the help of his revolutionary 3D printer, allowing for optimal fit and flexibility in record time.
At-Home Oral Hygiene Products
While routine checkups and cleanings are an essential part of maintaining lifelong oral health, the hygiene routine you practice at home is also just as important. If you're unsure which products are the best fit for your unique smile, be sure to talk to the Casco Bay Smiles team during your next visit.