Best Tooth Replacement Options in Falmouth, ME For Missing Teeth
Enjoy A Complete, Confident Smile Again
The loss of one or more natural teeth can send negative shockwaves through a person's life, especially if you've worked hard to cultivate a polished, professional image. You may struggle to enjoy your favorite foods, speak clearly during meetings, or even smile for photographs without feeling extremely self-conscious. In today's modern dental landscape, Dr. McVety wants you to know that there are modern, seamlessly attractive solutions available for rebuilding your best smile. Contact our Falmouth, ME dental office today to start exploring them in greater detail!
Why Choose Casco Bay Smiles for Tooth Replacement in the Portland, Maine Area?
State-Of-The-Art Dental Implants Available

At Casco Bay Smiles, you get the best dental care with state-of-the-art implants to replace missing teeth. With our team of experienced and certified Falmouth dentists, you can be assured of reliable and high-quality treatments for teeth replacement. The doctors thoroughly evaluate each case and offer tailor-made solutions to fit your tooth replacement needs. And our compassionate dental staff provides personalized attention to give you a positive experience at Casco Bay Smiles.

Comprehensive, Customized TOOTH REPLACEMENT PLANS IN FALMOUTH

Replacing missing teeth is an important decision for both your appearance and your dental health. With a personalized, comprehensive teeth replacement plan, Casco Bay Smiles helps you look and feel your best. Our dentists carefully evaluate your unique needs and customize a tooth replacement plan just for you. We offer a wide range of teeth replacement solutions to meet any budget, from dentures and bridges to dental implants and full-mouth reconstructions. We work with our lab to design custom fittings just for you because we do not believe in a one-size-fits-all approach to dentistry. Casco Bay Smiles offers a warm, friendly atmosphere combined with state-of-the-art dental treatments. No wonder we're the top choice for teeth replacement in the Portland, Maine, area.

Advanced Comfort Amenities & Spa-Like Environment

With Casco Bay Smiles, you don't have to worry about feeling uncomfortable or anxious during your visit. As soon as you walk in, our attentive team will do everything we can to make sure your experience is as pleasant and relaxing as possible. Our dental office near Portland provides comfortable solutions such as warm neck wraps, HDTV movies, Bose noise-canceling headphones, eye pillows, and more that enable you to relax while your tooth replacement procedure is performed.
Dental Bridges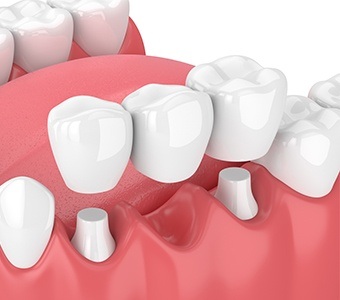 Dental bridges provide a sturdy and functional solution, particularly when multiple consecutive teeth along a single arch need replacement. Traditionally, this custom prosthetic is sturdily anchored within the gap through the use of dental crowns, which are attached to healthy adjacent teeth. However, these teeth have to be filed down to accommodate the new restorations, which isn't ideal for continuing oral health. A more conservative and longer-lasting alternative is an implant-retained dental bridge, which relies on the support of two dental implants instead.
Learn More About Dental Bridges
Dentures & Partials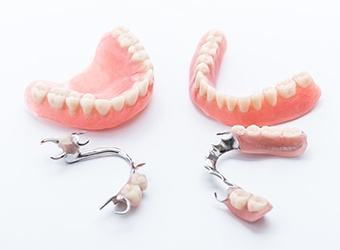 Full and partial dentures have been around for hundreds of years, and they've come a long way from the bulky prosthetics you surely remember from old-time cartoons. Today's fully custom models are highly efficient and affordable, and Dr. McVety will ensure that the final fit is sturdy, comfortable, and functional. If you're seeking a greater degree of permanence, we can also pair your new denture with state-of-the-art dental implants for optimal longevity.
Dental Implants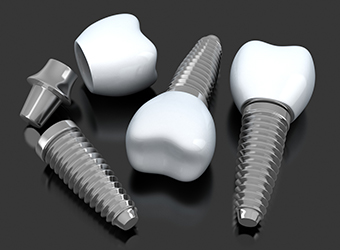 At Casco Bay Smiles, our team highly recommends dental implants as the premier solution for tooth loss in today's modern oral healthcare landscape. Implants succeed where more traditional services fall short because they completely replicate every part of the tooth's structure, including the root. By establishing this new foundation, the patient's oral health is well-preserved, and their eventual "tooth" is practically indistinguishable from the one that came before.