Get Your Tooth-Colored Dental Fillings in Falmouth, ME
Smile Repair That Looks 100% Natural
A few decades ago, being told that you had a cavity was enough to strike fear into your heart. It meant your dentist had to place a metal filling in your tooth, making it stand out like a sore thumb in your smile. Luckily, that's no longer the case! As a dentist in Falmouth, ME, Dr. Rob McVety understands the importance of having a healthy smile, but also one you can be proud of. That's why provides tooth-colored fillings as a way to restore decayed teeth without drawing attention to them. Contact our team at Casco Bay Smiles today to learn more about this method of smile repair that looks 100% natural!
Why Choose Casco Bay Smiles for Tooth-Colored Fillings?
State-of-the-Art Dental Technology Ensures Seamless Results
Relaxing, Spa-Like Dental Office Atmosphere
Low-Interest Dental Financing Available
Benefits of Tooth-Colored Fillings Over Metal Fillings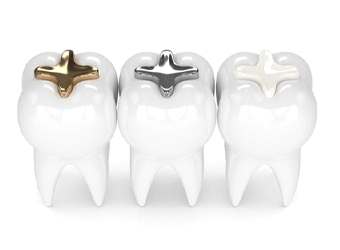 The main reason to choose tooth-colored fillings is right there in the name – they can be shaded to perfectly mimic your tooth enamel and blend in with the rest of your smile. Traditional fillings were made of an amalgamation of various metals like gold or silver. As a result, they left a permanent dark splotch on your tooth. With tooth-colored fillings, you can rest easy knowing that others won't be able to notice that you had dental work done.
Additionally, metal amalgam fillings don't chemically bond to your tooth enamel like tooth-colored fillings do. More natural tooth structure must be removed to place a metal filling, leaving your tooth weaker in the long run. Tooth-colored fillings, on the other hand, are biocompatible. They require very little if any enamel to be removed. They also forge a tight seal that protects the inner chambers of your tooth from not only sensitivity, but future cavities as well.
The Process of Getting a Tooth-Colored Filling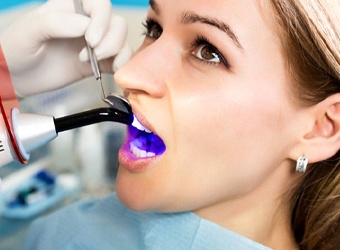 The tooth-colored fillings procedure is generally straightforward, comfortable, and can usually be completed in a single appointment. It begins with Dr. McVety administering a local anesthetic to ensure that the affected area of your mouth is fully numb. Then, he cleans out the decayed sections of enamel. After using a color chart to select the perfect shade of composite resin, he applies this putty-like material to your tooth in layers until the tooth's structure is rebuilt. Next, he shines a special ultraviolet light onto the filling, hardening it into place within mere seconds. Finally, he polishes the filling, makes any last-minute adjustments if need be, and sends you on your way t enjoy your newly repaired smile!
Understanding the Cost of Tooth-Colored Fillings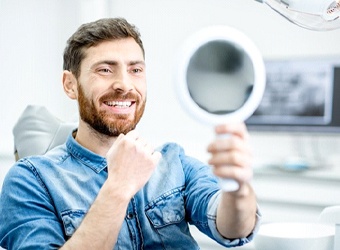 Until you visit Dr. McVety for a consultation, it's virtually impossible for us to give you a cost estimate for your tooth-colored filling. That's because the price depends on multiple variables, including the size of the cavity and location of the tooth within the mouth.
Tooth-colored fillings tend to cost slightly more than amalgam fillings, but the majority of dental insurance providers will cover anywhere from 50% to 80% of the cost. Our team works with most insurance companies and will gladly help you look over your plan to maximize your benefits. We also partner with CareCredit to help patients split up their treatment costs into low-interest monthly payment plans.