Implant-Retained Dentures – Falmouth, ME
Replace an Entire Row of Teeth
One dental implant can replace a single tooth, but with just a few implant posts, Dr. Rob McVety can fill in an entire arch of missing pearly whites with implant-retained dentures in Falmouth. This kind of restoration has all the advantages of traditional dentures, but it also helps promote a healthier jawbone and provides improved stability for better chewing power. Call Casco Bay Smiles today if you or a loved one is looking for a better solution for extensive tooth loss.
Why Choose Casco Bay Smiles for Implant-Retained Dentures?
Dental Implants and Dentures Both Provided at 1 Location
Advanced Technology Such as 3D Scanner Improves Placement Precision
Sturdy, Comfortable Full Dentures
How Do Implant-Retained Dentures Work?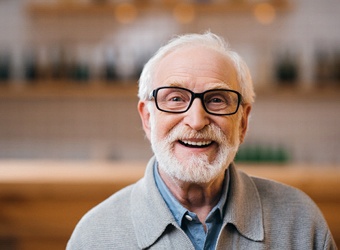 We'll use a cost-effective number of dental implants in Falmouth and strategically place them in your jawbone so that they can support your new dentures. The implants will fuse with the bone during a process called osseointegration. They effectively act as "roots" for your new teeth, anchoring them in place; they will also provide your jaw with the stimulation it usually receives from your natural teeth, preventing bone loss.
In some cases, implant dentures will be permanently fixed in place in your mouth. However, we can also design them to be removable based on your needs and preferences.
Am I a Candidate for Implant-Retained Dentures?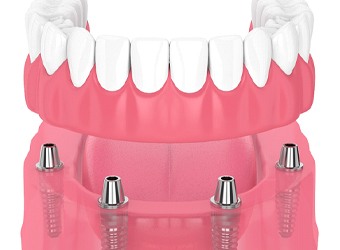 If you have lost all or most of the teeth in your upper or lower jaw, you can schedule a consultation with us to determine whether you're a candidate to have dental implants support your dentures in Falmouth. In cases where bone loss has already occurred, you might need to have a bone grafting procedure done first; this will provide your jaw with the density it needs to support the implant posts. Also, you need to be in excellent oral health before you can receive dental implants, so we'll check your mouth for signs of gum disease and treat it if necessary.
The Implant-Retained Dentures Procedure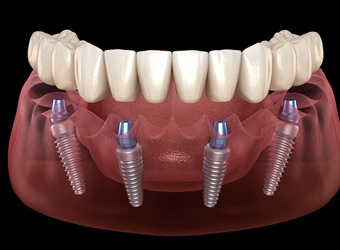 The process of getting implant-retained dentures will require multiple appointments. During the first surgery, the implants will be placed in your jaw after we make small incisions in your gums to expose the bone. After the surgery, it typically takes three to six months for osseointegration to complete itself. Once that's done, we'll expose the tops of the implant posts so that we can place abutments. The final step is to attach the dentures to the abutments. At that point, you'll have a brand new, fully functional smile to enjoy!
Benefits of Combining Dentures & Dental Implants
Improved Stability: Implant-retained dentures don't slip, which improves speech. They also provide chewing power almost on par with real teeth and will allow you to enjoy a more varied diet.
Healthier Jaw: Preventing bone loss will keep your jaw strong, thus helping you maintain a healthier facial structure.
Durability: Dental implants can last for decades – even a lifetime – if they receive proper maintenance.