Porcelain Veneers near Portland, ME
Transforming Damaged and Flawed Teeth with Expert Care
Do you have noticeable flaws in your smile that cause self-consciousness? If you're like many Americans, you may tend to hide your teeth in public because of various imperfections. Cracks, chips, stains, and misshapen teeth take away from the beauty of your teeth. With your smile as one of the first attributes people notice about you, it's important to have a healthy-looking set of teeth. Thankfully, at Casco Bay Smiles, Dr. Rob McVety offers porcelain veneers as a way to correct a wide-range of flaws at the same time. Contact our office to get started on your smile transformation with porcelain veneers in Falmouth.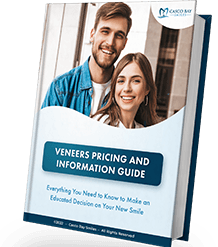 The guide will include
Veneer Options
Pricing Factors
$300 Savings
And More!
Why Choose Casco Bay Smiles for Porcelain Veneers?
Highly-trained and experienced dental team
State-of-the-art digital impression system
Comfortable and relaxing environment
What Are Porcelain Veneers?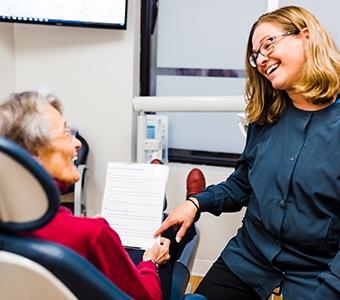 Porcelain veneers are thin sheaths of dental porcelain that are bonded to the front surfaces of your teeth. They can correct a variety of imperfections because they cover and conceal the visible parts of your smile. Dr. McVety can use porcelain veneers to correct a single tooth, multiple teeth, or even your whole smile. Porcelain veneers can restore damaged teeth back to their full appearance and function. Additionally, dental porcelain is stain-resistant, so discoloring your new smile in the future will be much harder to do.
Am I a Candidate for Porcelain Veneers?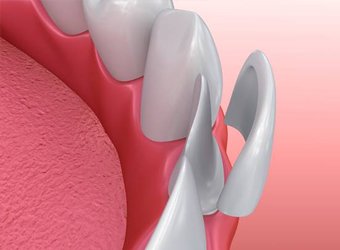 The only way to know with certainty whether you're a candidate for porcelain veneers or not is to schedule and appointment with Dr. McVety. However, here are some of the most common issues that porcelain veneers can fix:
Chipped teeth
Misshapen teeth
Discolored or stained teeth
Small gaps in between teeth
Slightly crooked teeth
The Process of Receiving Porcelain Veneers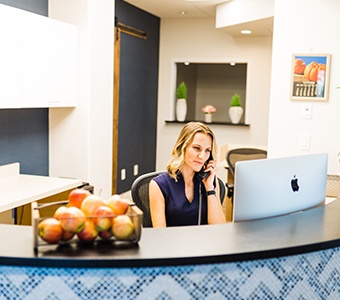 After you've discussed your desired goals with Dr. McVety, he will remove a tiny part of your natural tooth enamel to make room for the porcelain veneers. He will take impressions of your smile, which are then used to create your custom-made porcelain veneers. You'll be sent home with a set of temporary veneers until your permanent ones are made. When they're ready, you'll come back into our office, where Dr. McVety will bond your permanent veneers to your smile. This leaves you with improved size, shape, color, and function of your teeth.
How to Care for Porcelain Veneers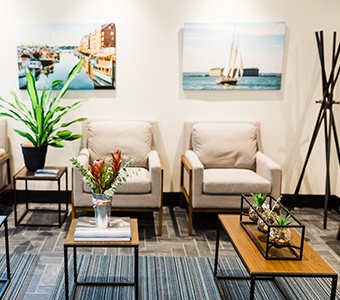 One of the benefits of porcelain veneers is that you can care for them the same way you would care for your natural teeth. However, there are some precautions you can take to extend the lifespan of your veneers. Your dentist in Falmouth recommends using a soft-bristled toothbrush with nonabrasive toothpaste when brushing. This ensures that you aren't scratching or damaging your veneers. You should also floss daily to remove bacteria and plaque from in between your teeth. Lastly, be sure to schedule routine dental checkups and cleanings with our office to make sure your smile stays healthy and beautiful.
Understanding the Cost of Veneers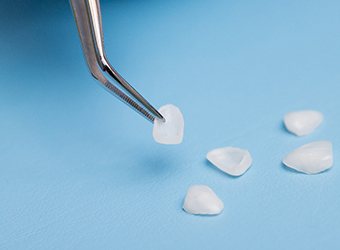 Learning about the cost of veneers in Falmouth can help you determine if this popular cosmetic service is the right one for you. After all, there are plenty of treatments to choose from when it comes to achieving the smile of your dreams! Dr. McVety or Dr. Kieffer would be happy to see you for a consultation and explain which options they recommend for your unique situation. Then, our team will go over all your options for making your dream smile a financial reality, such as flexible financing through CareCredit.
Cost VS Cosmetic Dentistry: What's Right for Me?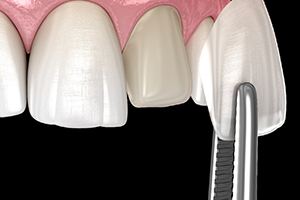 Most people would like to change the size, shape, or color of their teeth, or a combination of these factors. Veneers are one of the most comprehensive ways to improve your smile, but we also offer a range of other cosmetic services at different price points so you can accomplish exactly what you're looking for without breaking the bank. Here's how the cost of veneers compares to some of our other most popular cosmetic treatments:
Invisalign – Veneers are sometimes called "instant orthodontics" because they can address slightly crowded or gapped teeth. However, significant orthodontic problems should be treated with Invisalign. While this service costs more time and money than veneers, it will help you achieve a healthier, stronger smile in the long run.
Teeth Whitening – Teeth whitening is one of our quickest, easiest, and most cost-effective cosmetic services. Naturally, it only changes the color of the teeth. Alternatively, veneers offer a virtually "permanent teeth whitening" option that resists stains from foods and drinks.
Dental Bonding – Dental bonding is a fast and inexpensive service that can correct many of the same types of issues that veneers can. However, it's important to keep in mind that dental bonding will need to be redone every few years.
Veneers – Veneers are by no means the least expensive cosmetic option out there, but they are easily the most comprehensive. In just two quick and easy appointments, they can help you completely redesign the size, shape, color, and overall appearance of one or more teeth.
How to Make Veneers Affordable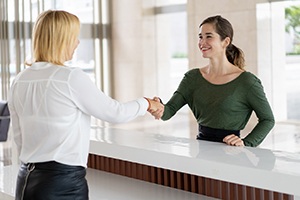 Cosmetic dentistry, including veneers, is rarely covered by dental insurance. When you come see us for a consultation, we'll be able to evaluate your teeth and give you a personalized estimate of how much you can expect your treatment to cost. From there, our knowledgeable staff would be happy to help you review flexible dental financing options through CareCredit. This third-party company offers numerous payment plans that break up the cost into smaller chunks that fit into your budget. Most patients qualify for financing, and many plans come with little to no interest! To learn more about CareCredit financing, visit us online or give us a call!
Veneers FAQs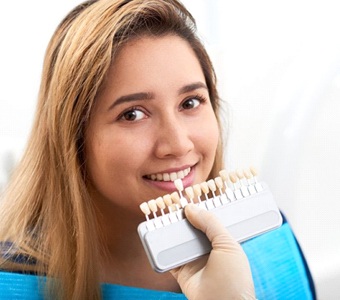 When it comes to improving your smile, veneers are the best way to "kill two birds with one stone." Because they conceal the entire front-facing portion of a tooth, they instantly give it a perfect appearance. Before you move forward with this treatment, however, we understand that you may have a few questions. To make your research easier and help you make an informed decision regarding your smile, we've answered some frequently asked veneers questions below. If you don't find the information that you're looking for below, feel free to call our friendly and knowledgeable team!
How Long Do Veneers Last?
Studies have found that about 95% of patients with veneers are still enjoying them after five years, more than 90% still have them after a decade, and approximately 83% of them were able to keep their veneers for 20 years. On average, you can expect your veneers in Falmouth to last for around 10 to 15 years, but if you take good care of them with diligent oral hygiene, they might even last up to 30 years!
The most common reason for veneer failure is chips, cracks, and other fractures that occur as a result of not protecting the underlying teeth. That's why routine brushing, flossing, and dental checkups are of the utmost importance. You can also minimize damage to your veneers and teeth by not biting down or chewing on hard, inedible objects like pens, ice, or your fingernails.
Do Veneers Feel Like Real Teeth?
Most patients report that once they've finished the veneers process, the veneers feel fully natural inside their mouths, to the point where they feel no difference at all when eating or speaking. There's a reason for this – each veneer is carefully crafted to perfectly fit within your smile based on impressions that are captured after a tiny amount of enamel has been removed. Because of this enamel removal, the veneers will not bulge out and will instead be seamless and comfortable.
How Many Veneers Will I Need?
The primary goal of getting veneers is to ensure that all of your visible teeth match. As a skilled cosmetic dentist in Falmouth, Dr. McVety will let you know the ideal number of veneers that can help you accomplish that goal. Most patients receive an even number of veneers (such as six, eight, or ten) to create a symmetrical smile, but it's also possible to receive a single veneer if you only have one tooth that needs improvement.
Is There Anything I Can't Eat with Veneers?
While you're wearing the temporary veneers, you'll want to stay away from hard or sticky foods that could break or dislodge your restorations. Once your permanent veneers are in place, though, you can enjoy practically all of your favorite foods. That being said, you still might want to limit extremely crunchy foods just to reduce the risk of breakage.
If you have more questions
contact us
207-569-3107