Dentures – Falmouth, ME
Rebuild Your Smile & Restore Your Confidence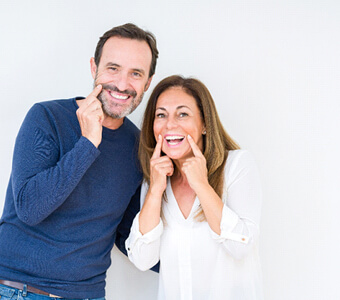 Right now, millions of Americans are dealing with the challenges of multiple missing teeth. If you belong to that population, then you're already familiar with how inconvenient it can be to do simple, everyday tasks. Talking, eating, and even smiling can feel uncomfortable, awkward, frustrating, or even impossible at times.
Our team at Casco Bay Smiles wants to help rebuild your smile and restore your confidence, which is why we offer 100% custom-made dentures in Falmouth. Whether you're missing just a few teeth or a whole mouthful, call us today to learn how we can help!
Why Choose Casco Bay Smiles for Dentures?
Multiple Amenities Provided in a Spa-Like Dental Office Environment
Implant Dentures Placed & Restored In-House
Comprehensive, Customized Treatment Plans for Each Patient
Are Dentures Right for Me?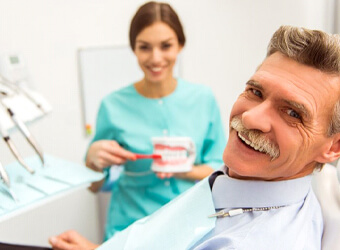 Tooth loss can have a debilitating effect on your day-to-day life. In addition to having trouble speaking and chewing, you might feel insecure about the gaps in your grin, preventing you from embracing new job opportunities or romantic endeavors.
If you've only lost one tooth or a few teeth, another tooth replacement solution might be more suitable for you. However, if all of the teeth on your top or bottom arch are gone, then there's a good chance you'll qualify for dentures. To find out if you're a good candidate for dentures, you'll first have to attend a consultation with Dr. Rob McVety. He'll determine whether dentures are right for you. It should be noted that you'll need to have healthy gums before getting dentures, so gum disease treatment might be necessary in some cases.
Types of Dentures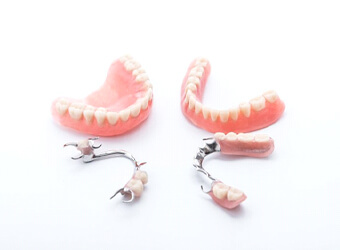 Based on his findings during your consultation, your dentist in Falmouth will recommend one of the three types of dentures:
Partial Dentures
A partial denture (also simply called a partial) seamlessly fills the empty spaces in your smile when you still have some natural teeth left. Ceramic (or acrylic) teeth are placed onto a gum-colored acrylic base in the exact positions necessary to complete your smile. The partial stays in place with metal clasps that attach to your remaining teeth.
Full Dentures
A full denture is similar to a partial, but it is instead designed to bring back an entire row of lost teeth simultaneously. It also remains in place thanks to the natural force of suction against your gums, or possibly a small amount of denture adhesive. Your denture will be personalized to deliver the most comfortable and secure fit possible.
Implant Dentures
If you would prefer a more reliable prosthetic, ask our team about implant dentures. This solution can be great for people who are frustrated with their current traditional dentures. On the outside, they look like ordinary dentures, but instead of resting on the gums, they're secured onto metal posts in the jawbone called dental implants. This makes them more stable and longer lasting than conventional dentures.
The Benefits of Dentures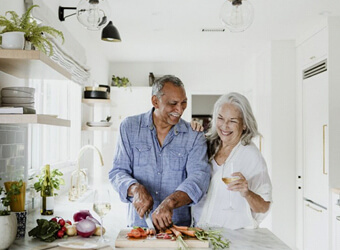 Dentures are a tried-and-true tooth replacement that have helped countless people regain a fully functional smile. Not only are today's dentures more lifelike and comfortable than ever before, but they also provide the following benefits:
Allow you to chew nutritious foods and maintain better overall health
Fill in your cheeks and prevent a sunken, aged facial appearance
Provide a more affordable, non-invasive tooth replacement
Offers a prosthetic that can be removed for easy cleaning