Best Teeth Whitening Services in Falmouth, ME to Keep Your Smile Bright
Eliminate Your Stains and Discoloration in No Time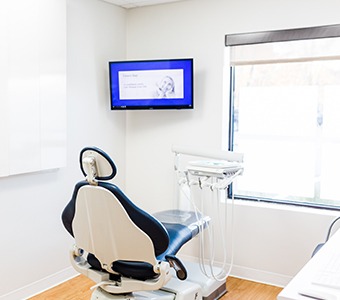 Do you hide your smile in public or photos because of stains and discoloration? Many Americans, about 80%, wish that they had a brighter smile, which is why there are many in-store whitening products available. However, these products can cause irritation and often provide uneven results. Thankfully, Dr. Rob McVety offers in-office teeth whitening with a Zoom light and Pola Gel in Falmouth to give you a whiter and more confident smile. Keep reading to learn why Zoom! teeth whitening is the best whitening service available for fast and dramatic whitening results in less than an hour.
Why Choose Casco Bay Smiles for Teeth Whitening?
Zoom! teeth whitening removes tough stains
Beautiful and lasting results
Safe and swift treatment process
Why are My Teeth Stained?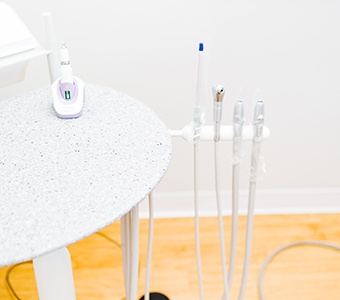 Your teeth can become stained for many reasons, but if you're older, discoloration is inevitable. As you age, your teeth face normal wear and tear that can cause them to lose their pearly white appearance. Additionally, your teeth can become more rapidly stained and discolored if you:
Practice poor oral healthcare
Routinely drink coffee or red wine
Regularly use tobacco products or smoke
Consume foods rich in color like blueberries, pasta sauce, and dark liquor
Zoom! Teeth Whitening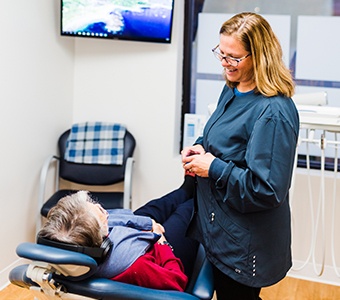 If you've had stains or discoloration, you may have tried over-the-counter products that just didn't deliver the results that you were looking for. At Casco Bay Smiles, we offer Zoom! in-office teeth whitening to provide our patients with smiles that are up to 8 shades whiter in just an hour's time!
Dr. McVety, an expert dentist in Falmouth, uses a safe and strong professional-grade whitening solution that he applies evenly to the surfaces of your teeth. Then, using a special activation lamp, he can reach stains that are on and below the surface of your teeth. This also speeds up the process, allowing for a quick, easy, yet effective treatment. Another benefit of this whitening treatment is that it can be used on patients who have experienced painful oral sensitivity in the past, allowing for a comfortable dental visit.
How Long Will My Results Last?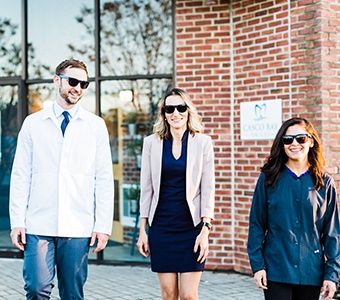 Sadly, the new white color on your teeth won't last forever, but you can extend the lifespan of your whiteness by practicing good oral healthcare. This means routine brushing, flossing, and the use of a nonalcoholic mouthwash. You should also avoid eating foods that are rich in color during the first few days after treatment, and even for the near future if you want to ensure the whiteness of your teeth. Typically, patients will see their results lasting between 3 and 6 months, but this time will vary based on how well you care for your smile. You can also come back to Casco Bay Smiles for quick and easy touchup appointments to maintain whiteness. These are especially useful if you have an important upcoming event or interview.
Does it sound like Zoom! teeth whitening is for you? Contact our office today to get started on a beautifully white and dazzling smile.
Teeth Whitening FAQs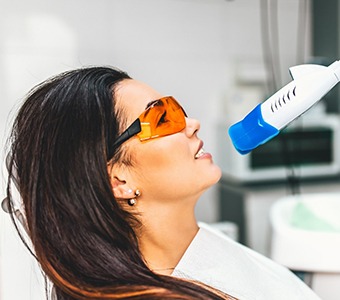 We understand if you have questions or concerns regarding teeth whitening treatment, especially if you've never completed it before! Dr. McVety is always happy to answer your questions in person during your appointment, but that doesn't mean you can't learn more about teeth whitening right now! We have answered dozens of questions about teeth whitening alone, and the most common ones can be found below for your convenience.
Do toothpaste whiteners work?
Toothpastes that market themselves as "whitening" or "bleaching" are generally reserved for removing stains that collect on the outermost layers of enamel. This makes them effective for occasional use, especially following the consumption of a richly-pigmented food or beverage. However, they do very little to remove deep or severe stains from teeth, especially ones caused by tobacco use. In particular, we advise against the use of "activated charcoal" toothpaste varieties as there's no evidence that indicates they are effective at whitening teeth. In fact, they could even harm your enamel if they are too abrasive, causing the dentin layer to become more visible (and your teeth to take on a yellow appearance.)
Is teeth whitening bad for my enamel?
Not at all! Dr. McVety is highly trained in implementing cosmetic treatments like teeth whitening so that they do not damage enamel in any way. This is because the bleaching components are designed to permeate the many layers of enamel without causing any side effects. With that said, you may notice a small amount of sensitivity, but this is short-lived thanks to Zoom's unique whitening ingredients and light-activated bleaching process.
Does teeth whitening affect fillings, veneers, or crowns?
Whether you have a filling, veneer, or dental crown, you should not expect teeth whitening to remove stains from it. This is because the ingredients used in teeth whitening products are only designed to address stains in natural enamel. If your concerns are more aligned with stains or blemishes in restorations (whether they were placed at our office or at another dental practice), you'll want to consider other cosmetic solutions. This could be replacing the restorations entirely or having dental bonding shaded, placed, shaped, and cured on teeth.
Does teeth whitening cause permanent tooth sensitivity?
Zoom's whitening treatment is designed to mitigate tooth sensitivity as much as possible. Even if you do experience some sensitivity, the effects are not permanent whatsoever. This means you can have confidence in your future teeth whitening treatment, whether you're completing a single round of whitening or multiple to get your smile up to the shade you desire.
How much does teeth whitening cost?
The price of your teeth whitening treatment varies depending on how many rounds you need to meet your specific shade. Once you arrive at our office and we get a chance to examine your smile's current condition, we'll have a much better idea of how much you'll need to pay to complete treatment.