Falmouth Dental Implants
Replace Missing Teeth Seamlessly
What if you could turn back the clock on tooth loss and regain a complete, confident smile that feels, looks, and functions just like the one you once had?
With dental implants that dream is within reach. This state-of-the-art reconstructive service faithfully replicates every component of a natural tooth so that the final result offers outstanding durability, cosmetic appeal and longevity.
Dr. Rob McVety uses state-of-the-art technology (including guided surgery and a revolutionary CBCT scanner) to ensure that every stage of the treatment process is as precise and successful as possible.
Why Choose Casco Bay Smiles for Dental Implants?
Dental Implant Placement & Restoration In 1 Office
Guided Implant Surgery For Maximum Precision
3D X-Rays With CBCT Scanner
Benefits of Dental implants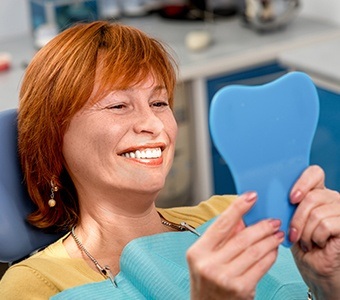 Dental implants rebuild both the root and the crown of the original tooth. With a new, functioning tooth root in place, the jawbone's health is better preserved, and patients don't have to worry about noticeable deterioration.
Implant-retained teeth are extremely lifelike, both in terms of cosmetic value and overall function.
Dental implants are very conservative and don't require surrounding teeth to be altered or minimized to accommodate their placement.
Dental implants can be used to enjoy all of your favorite foods, and you can brush and floss them normally as well.
When it comes to longevity, implant-retained teeth are truly unmatched. As long as they're maintained properly, they can last for multiple decades. Many patients are able to enjoy their new "teeth" for the rest of their lives.
Indications for Dental Implants
Dental implants are a highly versatile reconstructive service, and patients with tooth loss across a wide spectrum can benefit from them. Keep reading below to learn more about which types of implant-retained restorations will pair well with your specific circumstances and needs:
Missing Single Tooth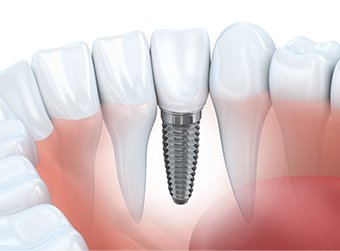 Implant-retained all-porcelain crowns can fit over individual implants, blending right in with an otherwise natural smile. Dr. McVety uses only the highest quality ceramic materials for a seamlessly beautiful result that even reflects light in the same way as natural tooth enamel.
Learn More About Missing One Tooth
Missing Multiple Teeth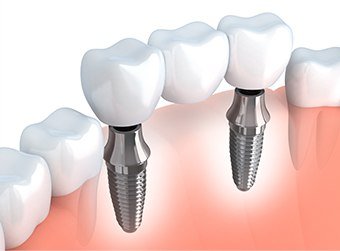 While implant-retained crowns can prove useful when restoring several teeth/implants throughout the mouth, a bridge may be a better solution when multiple teeth along the same arch have unfortunately been lost. We will position two implants – one on either side of the gap – and then attach the custom prosthetic to them for a strong and confident fit.
Missing All Teeth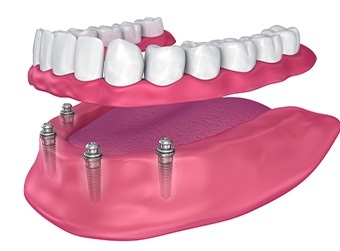 Implant-retained dentures are a more cost-effective reconstructive solution that does not skimp on the enduring quality our patients deserve. We can place a small number of strategic implants throughout the jawbone to support the new appliance, either permanently fixing it in place or designing it to remain removable.
Start-to-Finish Convenience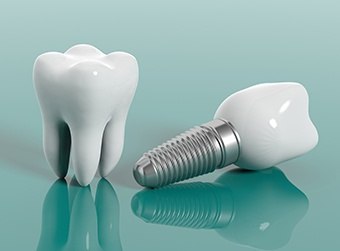 While many dental practices send their patients to outside specialists for the surgical component of their dental implant procedure, Dr. McVety is proud to offer a truly comprehensive experience here in Falmouth, ME by providing all parts of the implant procedure himself. With technological support like guided surgery and 3D X-rays from our revolutionary CBCT scanner, you can trust that he and our team will leave nothing to chance.
Understanding the Cost of Dental Implants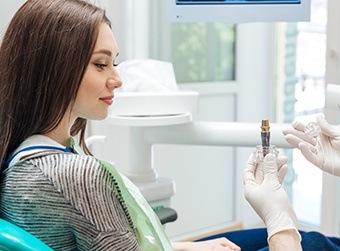 There are several components of dental implant treatment that influence the overall cost, including how many implants we're placing, the types of restorations that are covering them, and whether any health-minded procedures (such as periodontal therapy or bone grafting) are needed beforehand to ensure success. During your initial consultation, Dr. McVety will thoroughly review your current oral health and provide an exhaustive rundown of your proposed treatment – including financial information – so that you can proceed with total confidence.
It's important to remember that while dental implants may incur a larger investment upfront, we believe it's worth making. More traditional reconstructive services often require costly maintenance and replacement over the years, while implant-retained teeth are specifically designed to thrive for decades.
Implant-Retained Dentures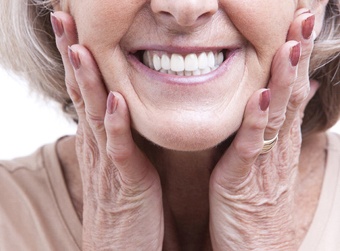 Have you lost all or most of the teeth in your upper or lower jaw? If you have, then you might be a candidate for implant-retained dentures. Unlike the traditional kind, these restorations will be firmly anchored in place; they won't slip at embarrassing moments or while you're trying to eat. Furthermore, because implants stimulate the jaw and prevent bone loss, you won't have to worry about your dentures becoming loose because your mouth changed shape.
Advanced Dental Implant Procedures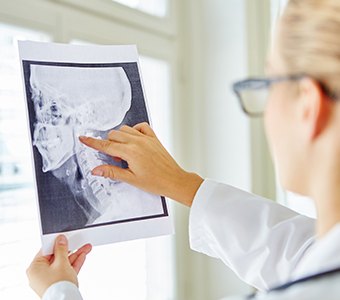 Since the jawbone needs the stimulation provided by your teeth to retain its density, bone deterioration is a natural side effect of tooth loss. Your implants might not integrate with the jaw properly if there isn't enough bone present. Luckily, in many cases the damage can be reversed with bone grafting, a procedure that encourages the jaw to start producing bone tissue again. A similar procedure called a sinus lift can be used if your sinuses are too close to where the implants need to be placed.
Dental Implant FAQs
What are dental implants?
Dental implants are small titanium posts that are surgically placed in your jawbone to replace your missing tooth's root. Once they're placed, a small piece called an abutment will be connected on top. This will hold the restoration, which can either be a crown, bridge, or denture. If you need to replace a single tooth, you'll most likely get a crown restoration, if you're missing multiple teeth, dentures.
Dental implants are the only restorative procedure that doesn't just replace the biting surface of your tooth, but also your root. These posts fuse with your jawbone and can prevent bone deterioration by stimulating it.
How much do dental implants cost?
Typically, dental insurance policies won't cover the cost of implants because they consider them a cosmetic service. Although, it's best to speak with your insurance provider because coverage does vary. Sometimes, medical insurance may contribute to the cost of procedures like bone grafting. Because each individual treatment plan varies so greatly, your best option is to schedule a consultation with your dentist in Falmouth to learn the details of the cost.
How do I take care of my dental implants?
Dental implants are the closest restorative option to your natural teeth. You can also take care of them in the same way! Be sure to brush twice a day and floss at least once daily to remove plaque and tartar buildup. Although your implants are durable and strong, they're not indestructible, so it's still important to floss and visit us for your semi-annual appointment to get an examination and deep, thorough cleaning.
Is the procedure painful?
Most patients report that they are more comfortable with their new implants than before the procedure. But, like most surgeries, you will experience some soreness and an adjustment period afterward. Don't worry, we do offer sedation dentistry in case you're experiencing anxiety about the treatment. These techniques can help make you feel relaxed and at ease.
Am I a candidate for dental implants?
If you're missing a single or multiple teeth, you're a candidate for dental implants. There are a variety of factors that go into the success of the procedure, so you may need additional operations such as bone grafting if your jawbone has deteriorated. If you smoke or have a preexisting medical condition like diabetes, it can make your procedure more complex, but you can still be a candidate.
How long does the process take?
There are several factors and surgeries involved with the success of dental implants, which may impact your treatment timeline. The amount of time it takes to get your implants depends on whether you need teeth extracted, a bone graft, sedation, or a sinus lift. Patients agree that the wait is well worth the benefits, though. The best way to find out how long it will take to repair your unique smile is to visit Dr. McVety for a consultation.