Dental Implants & Dentistry near Portland, ME
Replace Missing Teeth Seamlessly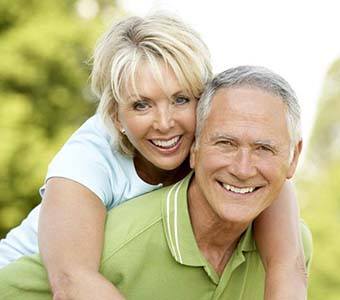 Going through your day-to-day life without all of your teeth can be difficult, to say the least. Normal tasks like chewing your foods and smiling in front of others can feel next to impossible. What if you could turn back the clock on tooth loss and regain a complete, confident smile that feels, looks, and functions just like the one you once had? With dental implants in Falmouth, ME, that dream is within reach. This state-of-the-art reconstructive service faithfully replicates every component of a natural tooth so that the final result offers outstanding durability, cosmetic appeal, and longevity. At Casco Bay Smiles, Dr. Rob McVety uses state-of-the-art technology (including guided surgery and a revolutionary CBCT scanner) to ensure that every stage of the treatment process is as precise and successful as possible. Call us today to set your dental implant consultation and start rebuilding your smile!
Download our dental implant pricing & information guide
Fill out the forms below and we will email/text you the guide along with a $350 savings offer!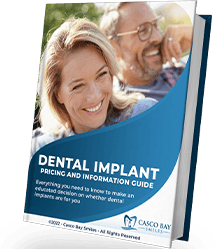 The guide will show you
Dental Implant Options
Average pricing
Factors That Affect ligibility
And More...
Why Choose Casco Bay Smiles for Dental Implants?
Start-to-Finish Dental Implant Treatment Provided Under One Roof
Computer-Guided Dental Implant Surgery for Maximum Precision
Relaxing, Spa-Like Dental Office Atmosphere
What Are Dental Implants?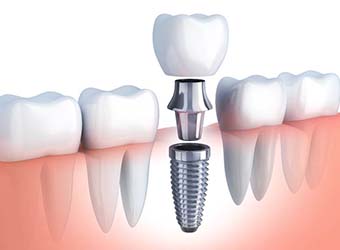 Dental implants are small titanium posts that are surgically placed in your jawbone to replace your missing tooth's root. Because titanium has biocompatible properties, it naturally integrates with your jawbone structure, becoming just as firmly embedded as the roots of your original teeth. Once this process is complete, a small metal attachment called an abutment will be connected to the tops of the implant posts. This will hold the restoration, which can either be a crown, bridge, or denture, depending on the number of teeth you need to replace.
The 4 Step Dental Implant Process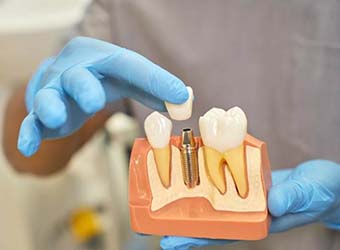 While many dental practices send their patients to outside specialists for the surgical component of their dental implant procedure, Dr. McVety is proud to offer a truly comprehensive experience here in Falmouth, ME by providing all parts of the dental implant procedure himself. With technological support like guided surgery and 3D X-rays from our revolutionary CBCT scanner, you can trust that he and our team will leave nothing to chance.
Each patient experiences dental implant treatment slightly differently, but the four basic steps of the process are:
Consultation to determine your candidacy for dental implants
Surgically placing the implant posts within your jaw
Waiting three to six months for the implants to merge with your jawbone
Placing the final restoration
Read on as we go over each of these steps and what you can expect on your dental implant journey!
Initial Dental Implant Consultation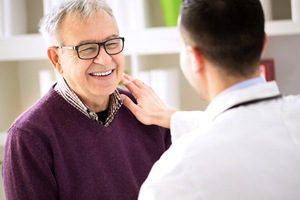 First, you'll meet with Dr. McVety for a consultation. He'll discuss your goals for your smile with you, review your medical history, and examine your mouth to see if dental implants are a good choice for you. Some patients will need to complete preliminary procedures like a bone graft or gum disease therapy first to become good candidates for dental implants. Then, once you've been given the green light, we'll create your custom dental implant treatment plan and schedule your implant placement surgery.
Dental Implant Surgery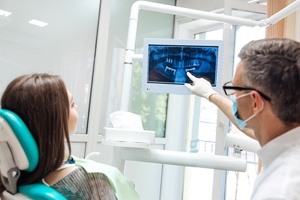 Placing dental implants involves a precise minor surgery. To ensure that this step goes as smoothly as possible, Dr. McVety has completed advanced training in implant dentistry in order to provide this service personally. Additionally, he'll use the CBCT scanner and guided dental implant technology to plan out your placement surgery ahead of time.
Once we've ensured that you're comfortable and that your mouth has been fully numbed, we'll make a small incision in your gums to access your jawbone. There, we'll insert your dental implant into the bone tissue and close the gums around it. Then, you'll be sent home to heal.
Dental Implant Osseointegration & Abutment Placement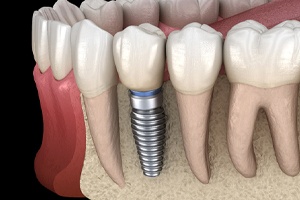 It should only take you a few days to recover from dental implant surgery. However, your jaw will continue to heal for several months during osseointegration. This is when the dental implant fuses with the surrounding bone tissue to create a strong, stable foundation for your new tooth. Osseointegration can take anywhere between three and six months, at which point you'll likely return to our office to have a small connector piece called an abutment attached to the top of your dental implant. As you heal from this minor procedure for a few weeks, your custom-made restoration will be crafted.
Delivery of Dental Implant Restorations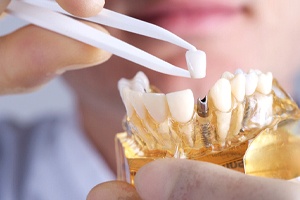 Finally, it will be time to return to our office for the final step on your journey towards a complete smile with dental implants. We'll use the abutment to secure your custom crown, bridge, or denture into place. Then, we'll answer any questions you may have, review how to take care of your implants, and check that you're pleased with your results. After that, you'll be all set to go out and show off your brand-new smile to the world!
Benefits of Dental Implants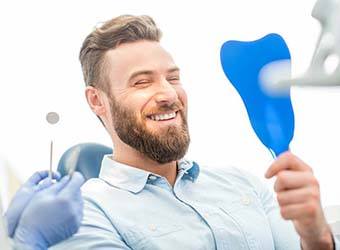 Dental implants are quickly becoming one of the most popular solutions for missing teeth. Over 500,000 are placed every year! They're an excellent option for patients wanting to replace one tooth, several teeth, or an entire arch. Since implants are surgically inserted into the jawbone, they provide a range of benefits that you simply can't get with traditional options like dentures or dental bridges. If you'd like to learn more about how they can improve your quality of life, continue reading or call our office to speak directly with a member of our team!
Day-to-Day Benefits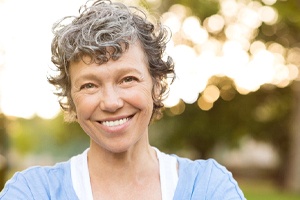 Since you use your teeth every day to eat, speak, and smile, it only makes sense that you'd want a tooth-replacement solution that allows you to live freely. By choosing to get dental implants in Falmouth, you can expect to enjoy the following day-to-day benefits:
Ability to eat almost any food. Dental implants replace the entire structure of a missing tooth, from the root up to the chewing surface. Because of their unique placement, they can withstand chewing virtually any food.
Speak with ease. Dentures are known to slip around the mouth, especially if they're ill-fitting. Since implants are rooted firmly in place, they allow you to speak clearly and confidently.
Increased confidence. Dental implants are custom-made for your facial features, giving you a beautiful smile that you can flash with confidence.
Lower maintenance. With dental implants, you don't have to worry about incorporating complex steps into your oral care routine. All you have to do is brush, floss, and rinse like you would with natural teeth!
Health Benefits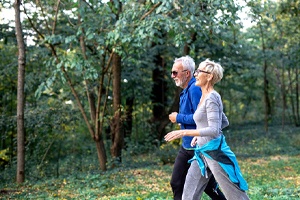 Aside from improving your daily quality of life, here are some incredible health benefits you can enjoy as well:
Jawbone preservation. Dental implants provide the jawbone with internal support, keeping it healthy and functional.
Prevent shifting of natural teeth. It's common for teeth to shift after tooth loss. Luckily, dental implants serve as a placeholder to ensure every member stays exactly where it belongs.
Improved overall health. Studies show a correlation between tooth loss and an increased risk of several diseases. Because implants are so similar to natural teeth, it's safe to assume that they can help lower such risks.
Long-Term Benefits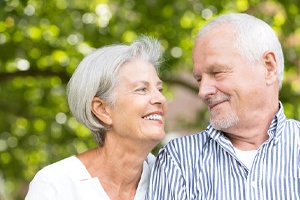 With dental implants, you can expect to enjoy multiple long-term benefits, including:
High success rate. Dental implants have an impressive success rate of 90-95% even 20 years after they've been placed!
Youthful appearance. Since implants stimulate the blood flow in the jaw, they help prevent the sunken, aged look that's common after tooth loss.
Long-lasting results. Unlike dentures and dental bridges, implants do not need to be replaced every few years. In fact, they can last decades with proper care and maintenance!
Who Dental Implants Can Help
Dental implants are a highly versatile reconstructive service, and patients with tooth loss across a wide spectrum can benefit from them. Keep reading below to learn more about which types of implant-supported restorations will pair well with your specific circumstances and needs:
Missing One Tooth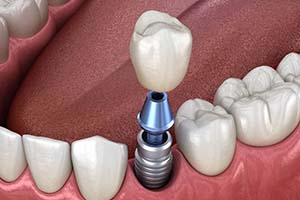 All-porcelain crowns can fit over individual implants, blending right in with an otherwise natural smile. Dr. McVety uses only the highest quality ceramic materials for a seamlessly beautiful result that even reflects light in the same way as natural tooth enamel.
Missing Multiple Teeth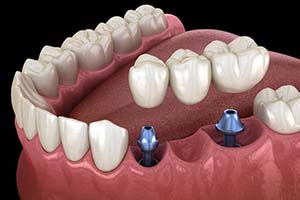 While implant-supported crowns can prove useful when restoring several teeth/implants throughout the mouth, a bridge may be a better solution when multiple teeth along the same arch have unfortunately been lost. We will position two implants – one on either side of the gap – and then attach the custom prosthetic to them for a strong and confident fit.
Missing All Teeth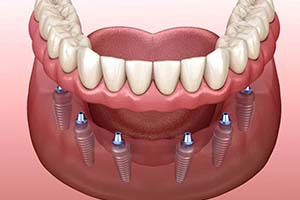 Implant dentures are a more cost-effective reconstructive solution that does not skimp on the enduring quality our patients deserve. We can place a small number of strategic implants throughout the jawbone to support the new appliance, either permanently fixing it in place or designing it to remain removable. Unlike traditional dentures, implant dentures will be firmly anchored in place; they won't slip at embarrassing moments or while you're trying to eat. Furthermore, because implants stimulate the jaw and prevent bone loss, you won't have to worry about your dentures becoming loose because your mouth changed shape.
Understanding the Cost of Dental Implants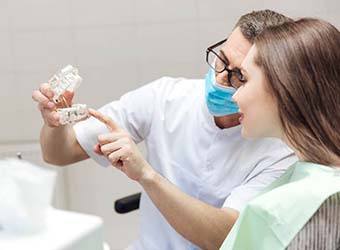 There are several components of dental implant treatment that influence the overall cost, including how many implants we're placing, the types of restorations that are covering them, and whether any health-minded procedures (such as periodontal therapy or bone grafting) are needed beforehand to ensure success. During your initial consultation, Dr. McVety will thoroughly review your current oral health and provide an exhaustive rundown of your proposed treatment – including financial information – so that you can proceed with total confidence.
It's important to remember that while dental implants may incur a larger investment upfront, we believe it's worth making. More traditional reconstructive services often require costly maintenance and replacement over the years, while dental implants are specifically designed to thrive for decades.
Types of Dental Implants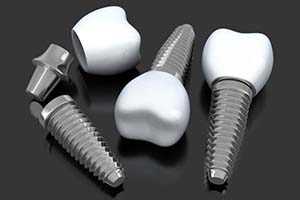 The overall cost of your dental implant procedure will depend on how many posts you'll be having implanted into your jawbone. There are three types of implants you can receive, and it will be up to Dr. McVety to determine which one is right for your needs.
Single Tooth Implant – Considered the cheapest, a single tooth implant is comprised of a titanium post that mimics your natural tooth root, an abutment, and a customized dental crown.
Implant Bridge – If you are missing more than one tooth, it will be necessary to receive two dental implants. Each will be located on either side of the gap and abutments will be put into place to secure the bridge prosthetic.
Implant Denture – The costliest yet most cost-effective method is an implant denture. When comparing this tooth replacement method to traditional dentures, you are saving more money with an implant denture. Why? Because they're made to last longer and don't require relining, readjusting, or, in most cases, replacing. An implant denture requires four to six implants, abutments, and a custom-made denture that is secured in place.
What Are the Stages of Dental Implant Treatment?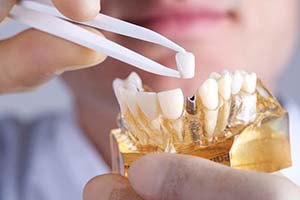 When preparing for dental implant placement, there are various stages of treatment you'll be required to go through, each with its own cost:
Initial Consultation: During your initial consultation with a dentist in Falmouth, you'll discuss the process, procedure, aftercare, and any pre-implant dental work you might need. We will make sure to provide you a clear estimate regarding your implant procedure so that you can begin creating a budget for your dental work.
Pre-Implant Dental Work: Not all patients need it, but should Dr. McVety believe you need a bone graft or gum disease therapy, it will be necessary to have these treatments completed prior to receiving your dental implants.
Surgical Placement: As it is with any procedure, the surgery itself is considered part of the overall cost. After placing your implants into your jawbone, we will stitch up your gum area and send you home to rest. During this time, your implants will fuse to the bone and nearby tissues.
Abutment: This small piece may not seem like much, but it serves a valuable purpose. The abutment connects the implant and restoration, securing it in place.
Custom Restoration: During your consultation, when Dr. McVety takes digital impressions of your mouth, these scans will be sent to a dental lab so technicians can begin crafting your custom prosthetic. When ready, we will secure it to your implants, giving you a beautiful new smile.
Apart from the individual stages, additional factors incorporated into the cost might include anesthesia or sedation.
Are Dental Implants Worth the Investment?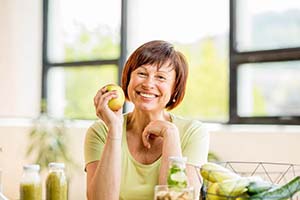 To put it simply, there is no better solution for missing teeth than dental implants. Yes, there are other methods dentists use for replacement, but only dental implants can last decades, if not a lifetime. The initial investment is great, but over time, while your friends or colleagues are visiting the dentist to have their dentures replaced or bridges repaired, you'll continue to sport a smile that is stable, functional, and in the best of shape.
Does My Dental Insurance Cover Dental Implants?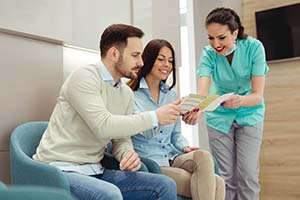 Most dental insurance companies do not cover the cost of dental implant placement; however, you might be surprised to learn that certain aspects of your surgery and treatment are covered, including:
Any pre-dental implant work (periodontal therapy, bone grafting)
Consultation
Custom restoration
Anesthesia/Sedation
At Casco Bay Smiles, we don't want you to feel overwhelmed by the cost of your dental procedures, which is why we work with many dental insurance PPO plans as well as offer CareCredit, which is a third-party financier. This financing plan allows you to make manageable monthly payments for extensive treatments.
Advanced Dental Implant Procedures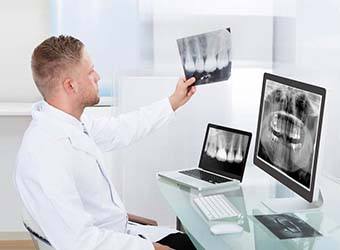 Since the jawbone needs the stimulation provided by your teeth to retain its density, bone deterioration is a natural side effect of tooth loss. Your implants might not integrate with the jaw properly if there isn't enough bone present. Luckily, in many cases the damage can be reversed with bone grafting, a procedure that encourages the jaw to start producing bone tissue again. A similar procedure called a sinus lift can be used if your sinuses are too close to where the implants need to be placed.
Bone Grafting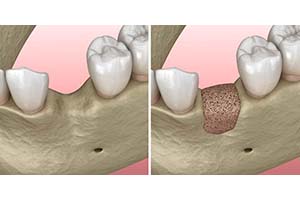 When a bone has deteriorated in some way, a bone grafting procedure can be used to encourage growth and healing. The procedure works by taking bone tissue from another part of your body (or from a human or animal donor) and placing it around the damaged area. The still-living cells in the deteriorated bone will begin to bond with the new material and start to regenerate. As the bone grows, it will eventually replace the graft material entirely.
Since the jaw relies on the stimulation of chewing to stay healthy and strong, bone loss is a common side effect of losing teeth; for this reason, it's very common for a patient to need bone grafting before they can get dental implants.
While in mild cases you can sometimes receive your dental implants right after bone grafting, in other cases you'll need to wait several months for your mouth to fully heal first. You might notice some pain during the first few days after the surgery, but it will fade over time; you can use over-the-counter painkillers and ice bags to keep yourself as comfortable as possible. You should also stick to soft foods during the early stages of recovery.
Sinus Lifts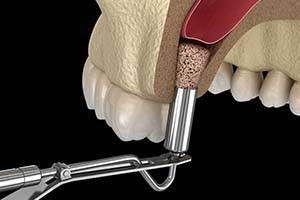 This procedure is specifically used to add height to the upper jaw and/or move the sinuses away from where the implants need to be placed. After an incision is made in the gums, the membrane that protects the sinuses will be gently pushed up, and grafting material will be added. Like with bone grafting, you'll likely need to wait several months after a sinus lift is performed before your mouth is ready to receive implants.
Dental Implant FAQs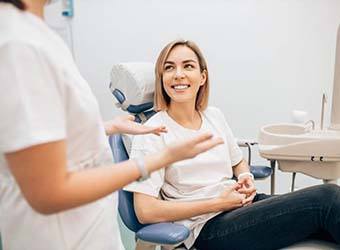 While Dr. McVety will be happy to answer your dental implant questions during your consultation, we've included the answers to a few frequently asked questions below for your convenience.
How Much Do Dental Implants Cost?
Typically, dental insurance policies won't cover the cost of implants because they consider them a cosmetic service. Although, it's best to speak with your insurance provider because coverage does vary. Sometimes, medical insurance may contribute to the cost of procedures like bone grafting. Because each individual treatment plan varies so greatly, your best option is to schedule a consultation with your dentist in Falmouth to learn the details of the cost.
How Do I Take Care of My Dental Implants?
Dental implants are the closest restorative option to your natural teeth. You can also take care of them in the same way! Be sure to brush twice a day and floss at least once daily to remove plaque and tartar buildup. Although your implants are durable and strong, they're not indestructible, so it's still important to floss and visit us for your semi-annual appointment to get an examination and deep, thorough cleaning.
Is the Dental Implant Procedure Painful?
Most patients report that they are more comfortable with their new implants than before the procedure. But, like most surgeries, you will experience some soreness and an adjustment period afterward. Don't worry, we do offer sedation dentistry in case you're experiencing anxiety about the treatment. These techniques can help make you feel relaxed and at ease.
Am I a Candidate for Dental Implants?
If you're missing a single or multiple teeth, you're a candidate for dental implants. There are a variety of factors that go into the success of the procedure, so you may need additional operations such as bone grafting if your jawbone has deteriorated. If you smoke or have a preexisting medical condition like diabetes, it can make your procedure more complex, but you can still be a candidate.
How Long Does the Dental Implant Process Take?
There are several factors and surgeries involved with the success of dental implants, which may impact your treatment timeline. The amount of time it takes to get your implants depends on whether you need teeth extracted, a bone graft, sedation, or a sinus lift. Patients agree that the wait is well worth the benefits, though. The best way to find out how long it will take to repair your unique smile is to visit Dr. McVety for a consultation.
Maintaining & Caring for Your Dental Implant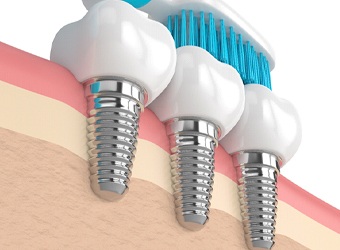 Dental implants in Falmouth truly replace missing teeth seamlessly. Not only do they look, feel, and function just like natural teeth, but they can be cared for just as easily as well! While dentures and dental bridges require special brushes and cleaning solutions then still need to be replaced after five to seven years, dental implants can be cared for with a typical oral hygiene routine and simple healthy habits, and they have the potential to last a lifetime! Read on as we go over the top five ways to keep your dental implants looking and feeling their best for decades to come.
Make Oral Hygiene a Priority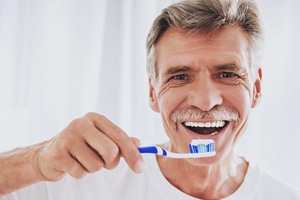 Unlike your natural teeth, dental implants can't get cavities. However, you still need to brush and floss daily if you want to take care of them! Proper oral hygiene will keep your remaining teeth healthy and will protect your gums from infection. The number one cause of dental implant failure is peri-implantitis, where bacteria build up in the mouth and attack the supportive structures that hold the dental implant in place, which is typically the result of poor dental hygiene. Make sure to brush your teeth for two minutes twice a day, floss daily, and rinse with and ADA-approved mouthwash regularly.
Eat a Healthy Diet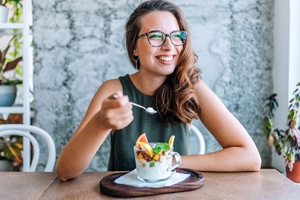 Dental implants can restore 80% or more of your natural biting force, allowing you to comfortably eat steak, apples, nuts, and all your other favorite foods once again. That being said, you should still be careful with your diet to make the most of your dental implants. Too many sugary sweets will fuel the bacteria in your mouth and put you at a higher risk of peri-implantitis, and eating too many overly hard foods can potentially chip or damage your restoration. Instead, make sure to eat plenty of foods with calcium and vitamin C to keep your jawbone strong and your gums healthy.
Break Bad Habits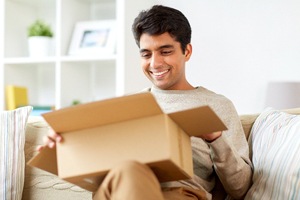 Getting dental implants presents the perfect opportunity to break a few common bad habits, such as:
Smoking: Dental implants are far less successful in smokers because smoking slows down your body's natural healing process, leaves your mouth vulnerable to infection, and can interfere with osseointegration. You'll need to stop smoking for several weeks to a month before and after your dental implant surgery, making it the perfect time to kick this bad habit entirely.
Chewing on hard objects: If you chew on items like ice, pens, pencils, or your fingernails when you're bored or stressed, now is the time to stop. These objects will wear down your remaining teeth and can potentially damage your implant restoration. If you need to chew on something, try a piece of sugarless gum or a crunchy apple instead.
Using your teeth as tools: Using your teeth to open containers, hold your keys, rip off price tags, or as any other type of household tool can damage them in a blink of an eye. To protect your smile and your dental implants from unnecessary damage, always keep the right tools within reach.
Protect Your Dental Implants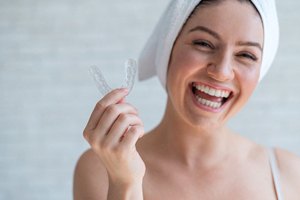 Do you play sports? Do you grind your teeth in your sleep? Both of these can damage your dental implant restoration and potentially even loosen the dental implant itself. Fortunately, we can provide you with a custom-made sports mouthguard or nightguard for bruxism that will keep your smile safe. These little appliances will shield your pearly whites from outside forces and themselves.
Schedule Regular Dental Checkups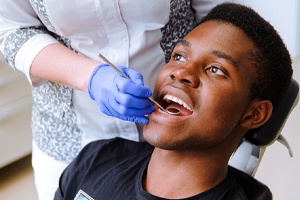 No matter how many of your teeth you've replaced with dental implants, you still need to visit us every six months for regular checkups and cleanings. These routine visits allow us to monitor your dental implant and ensure that your oral health is staying on track. Even if your dental implant looks and feels fine to you, we may be able to spot the earliest signs of a potential problem and treat it right away, before it has the chance to give you or your dental implant any trouble.