Meet Falmouth's Favorite Dental Team
A big reason why patients love coming to Casco Bay Smiles is our excellent team. This group of friendly, knowledgeable, and highly-skilled individuals were all hand-picked by Dr. McVety, so you can trust that your visits will be well-organized and relaxing every time. They'll greet you at the door, ensure that you're comfortable in the treatment chair, and help you find the best ways to pay for your care, answering any questions along the way. To start getting to know our wonderful team, read on below.
Dany, Practice Manager/Team Leader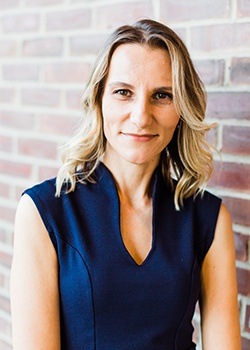 Dany was born in Bulgaria and moved to the United States in 2005. She has her Master's Degree in Economics. She has worked in dental administration and finance for over 7 years.
Dany has attended a variety of continuing education courses in dentistry, administration and management through JP Institute, American Academy of Cosmetic Dentistry and Yankee Dental. Dany enjoys assisting and empowering the team to help patients achieve their dream smiles. Dany will ensure that you understand all your treatment and financial options and always have a great patient experience from start to finish.
Dany is married and has a son named Martin. Outside of the practice, her hobbies include yoga, dancing, running, biking, and gardening. Dany is definitely a dreamer and is always looking for new ways to create a happy life, a happy team and happy patients!
Katlyn, Registered Dental Hygienist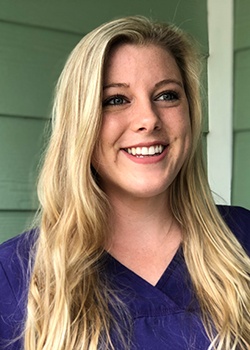 Katlyn is a registered dental hygienist from Atlanta, Georgia. Dental hygiene is a passion of hers because she loves to help improve not only the health of someone's smile but beauty as well! She moved to Maine this year with her fiancé and puppy, Cooper. In her spare time she loves to cook, go hiking, and bike. She is eager to experience the Portland restaurants and shops once everything gets back to normal.
Nicole, Registered Dental Hygienist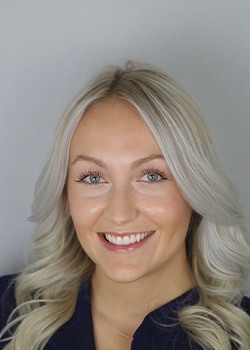 Nicole is our newest addition to the team, joining Katlyn as a hygienist. Nicole was in the honors program at CMCC where she studied Life Science. She then continued her education studying Dental Hygiene at University of New England. She strives to personalize each visit to the unique needs of each patient. She wants to make her patients feel comfortable and achieve a healthy smile they are proud of. Nicole loves cooking, being active, hiking, and being with friends and family. A fun fact about Nicole is that plays in a local basketball league with weekly games!
Sydney, Dental Assistant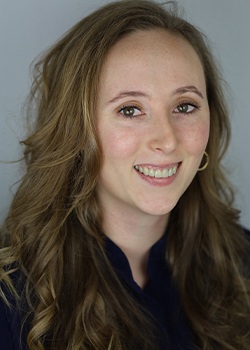 Sydney is a Vermont native who moved to Maine in early 2020 with her husband Tyler and dog, Sunny. She has spent the last five years as a dental assistant. She is kind, caring, and comforting to all of her patients. She performs multiple tasks around the office including 3D printing and denture work! She loves to engage in a great conversation about animals, vegan meals/desserts, or Trader Joe's latest and greatest items. She loves to mountain bike, ride horses and spend her time with Sunny!
Emily, Dental Assistant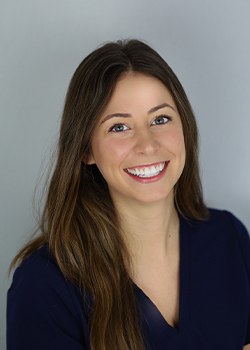 Emily is a proud Mainer, raised in Poland Springs. She received her Bachelor's degree in food science/human nutrition from University of Maine. She has spent the last two and a half years as a dental assistant. Emily brings light and positive energy into the office, and tries to make her anxious patients laugh and feel at ease. She enjoys assisting Dr. McVety on implant and crown cases. Emily loves to work out, is a dog lover, and is in pursuit of making the perfect chili (she is getting very close). She is a dedicated Jeopardy fan, which she watches every night after work.
Molly, Receptionist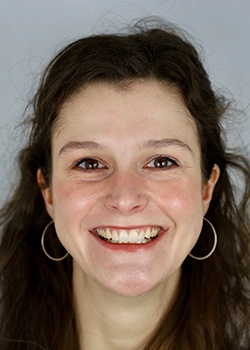 Molly is Casco Bay Smile's new receptionist! Molly is from Gorham and currently resides in Portland. She has her Master's of Fine Arts in Fiction from Bennington College. In addition to her job at Casco Bay Smiles, she works as an assistant to literary agent Annie DeWitt for The Shipman Agency. Molly is new to the world of dentistry, but is grateful for the education she's receiving at Casco Bay Smiles. She loves working close with, and learning from, the extraordinary office manager, Dany. Molly hopes she makes all patients feel heard. Molly has a potty-trained rabbit named Wilder. In her free time, Molly enjoys reading, sewing and knitting, and spending time with friends and family.