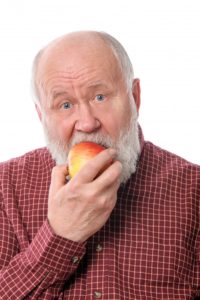 You are happy with how your new dentures look and it has elevated your confidence accordingly. It is so much better than when you were missing teeth, just as your dentist promised. But what about that restaurant your cousin invited you to?
You aren't quite sure about what you should be ordering or avoiding. Keep reading to get advice from your dentist in Falmouth on eating with dentures.
Choose the Denture Adhesive That Suits You Best
Denture adhesives in glue form tend to provide the greatest stability but can make cleaning difficult. Adhesive seals and powders are easier to clean up and reduce the chances of gum irritation yet offer less stability.
Steer Clear of Sticky Foods
Items that are sticky (caramel, taffy, peanut butter, raisins) or hard can damage your dentures. Also try to stay away from nuts or seeds, since they can get under your dentures and cause irritation.
Be Patient as You Adjust
It may take weeks to get comfortable eating with your dentures, but you'll get there. As you make progress, you'll be able to eat firmer foods. Always make the effort to chew on both sides of your mouth simultaneously. While still in the adjustment period, don't chew gum and try to avoid hot foods or meals with sharp bones.
Be Careful When You Bite
If you need to bite down on food such as an apple, use your canine teeth instead of your front ones. Avoid biting down with your front teeth, because it will cause your dentures to move around and make your gums sore.
Start with Easy-to-Eat Items
Start with soft foods and cut them into small pieces or thin strips. It's necessary to use both sides of your mouth to chew and try to go slower. If you eventually progress to foods like steak, pizza, and bagels, expect to chew each bite much longer so you can fully break it down. It will be a lot easier if you replace tough red meats with poultry, fish, and eggs – or at least turn to stewed or slow-cooked meats.
Sure, in the early going you must be mindful of these suggestions, but after you've been following them for a couple of weeks, you'll start making smart decisions without ever thinking about it. When you aren't sure, you can always ask your Falmouth dentist about which items to consider or avoid.
About the Author
Dr. Rob McVety earned his dental doctorate from the University of Connecticut. He is part of the Spear Faculty Club and regularly travels to Arizona for advanced training, plus he meets with a local study club in an ongoing effort to stay current in the ever-evolving dental field. Dr. McVety loves to try all the great restaurants in the Portland area, and he will be happy to talk with you about what foods are appropriate with dentures, whether you are checking out the restaurants or eating at home. For a consultation to get new dentures or for help with your current set, visit his website or call (207) 517-7008.