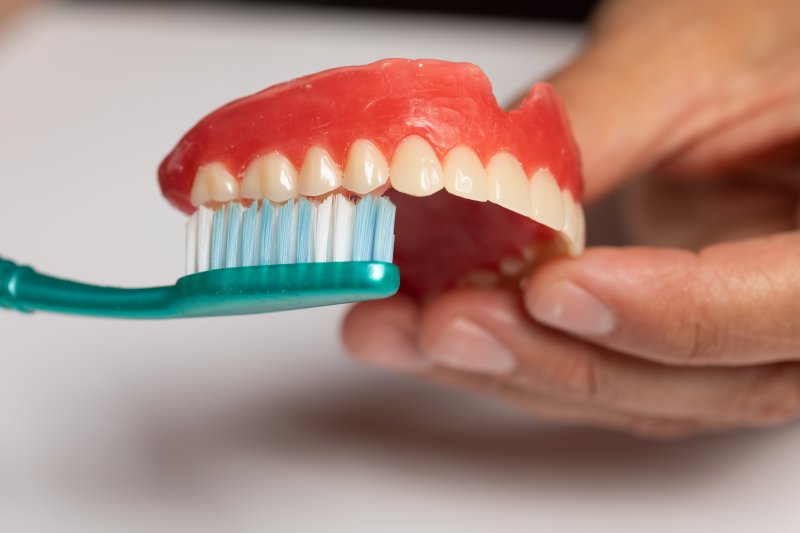 Between working 40 hours per week, taking care of your children, spending time with your spouse, and staying in contact with friends, taking the time to remove your dentures to clean them thoroughly may seem like one too many things to keep up with. Though it may seem easier to brush your dentures while they're in your mouth, this may not be the best way to get the job done. Learn the recommended way to care for your dentures and how it can benefit your oral health.
Should You Clean Dentures While Wearing Them?
Even though it's possible to clean your dentures while they're in your mouth, it's better to remove them for a deeper, more thorough clean. Since not every part of your dentures can be cleaned without taking them out, removing your dentures allows you to reach all surfaces and clean away food debris and plaque. Harmful bacteria feed off these debris, so removing them can prevent build up to keep cavities, gum disease, and other oral health issues at bay.
Caring for Your Dentures
Cleaning your dentures with a soft-bristled toothbrush is a crucial part of maintaining a healthy mouth and keeping your smile in good shape. Some tips on how to thoroughly clean your dentures include:
Use specialized denture cleaning paste and a soft-bristled toothbrush to avoid damaging your dentures
Since it can damage the acrylic of dentures, don't bleach them unless instructed to do so by your dentist
Fill your sink with water or clean them over a soft town to avoid breaking them if drop them on accident
Remove your dentures and brush away all food debris and plaque
Soak them overnight in a cup of cold, fresh water or a special denture-cleaning solution. This cleans them more deeply and helps keep them from warping while they're not being worn
Rinse them off before wearing them to remove excess denture-soaking formula and avoid exposing your mouth to potentially harmful chemicals
Though you're able to clean parts of your dentures while wearing them, following the above steps is the best way to get the job done. When in doubt, contact your dentist to ask how they recommend caring for your dentures. By protecting your natural teeth and your dentures from harm, you'll be able to enjoy a fresh and beautiful smile for years to come!
About the Practice
Dr. Rob McVety and the Casco Bay Smiles team pride themselves on going above and beyond for their Falmouth patients. They believe that the best kind of care is highly personalized and tailored to a patient's unique needs. Our office to be relaxing, comfortable, and well-maintained to make your dental visits more enjoyable. Dr. McVety takes a more modern approach to dentistry and provides quality dental health care to each and every patient. To learn more about how to properly care for your dentures, call us at (207) 517-7008 or visit our website.