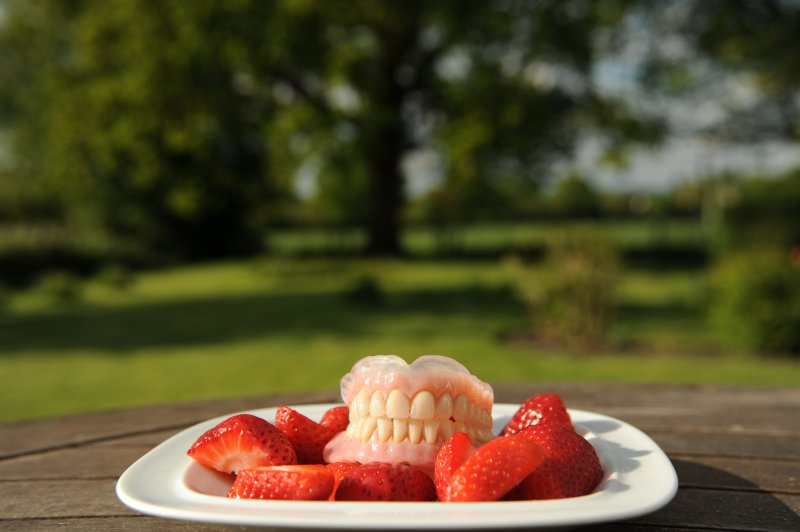 With dentures being the tooth replacement of choice every year for about 15% of the edentulous population (those with no teeth), this classic restoration is among the most popular. While dentures allow you to enjoy having a full set of teeth again, it can take a while to adjust to eating while wearing them. Here are a few helpful tips on how to get used to eating with dentures.
Start Out Slow
While you're getting used to eating with your new dentures, start out slow with soft foods and chew on both sides of your mouth. Examples of foods that won't cause unnecessary stress on your gums include:
Cooked cereals like oatmeal, porridge, and Cream of Wheat
Gelatin, pudding, or yogurt
Applesauce and other cooked or pureed fruits and veggies
Mashed potatoes
Scrambled eggs
Smoothies and milkshakes
Smooth soups that aren't hot enough to burn your mouth
Practice, Practice, Practice!
As you continue getting used to chewing while wearing dentures, you can begin easing back into eating firmer foods. Start with modest portions and cut foods into smaller pieces so they're easier to chew. Practice eating these foods at home to avoid making a mess at restaurants, dinner parties, or family get togethers. ​The American Dental Association recommends continuing to chew on both sides of your mouth. It's also wise to avoid hot foods or foods with sharp bones or shells.
Foods to Avoid Eating with Dentures
Once you have fully adjusted to chewing with dentures, you should be able to eat most things without any issues. Even so, there are a few foods you may still have trouble chewing and should continue to avoid. Some of these foods include:
Chewing gum and sticky candies
Tough or stringy meats such as brisket
Crunchy peanut butter
Popcorn and whole nuts
Crackers and crusty breads
Raw, hard, or crunchy fruits and vegetables like carrots, apples, and corn on the cob
By taking things slow and working your way up to solid foods, your dentures will function almost as well as your natural teeth in no time. If issues persist, schedule an appointment with your dentist to ensure that your dentures are properly fitted to your mouth so you can get back to eating the foods you love!
About the Practice
Dr. Rob McVety and the rest of our Falmouth team go above and beyond for our patients. We'll pamper you from check-in to checkout, and you're guaranteed to leave with a healthy, beautiful smile! Dr. McVety understands that the best kind of care is tailored to a patient's individual needs, and he loves helping his Falmouth patients improve their smiles with his personalized, modern approach to providing quality dental health care. Come experience the Casco Bay Smiles difference! For more information on how and what to eat while wearing dentures, visit our website or call us at (207) 517-7008.