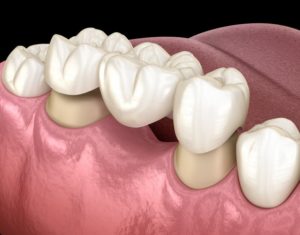 Dental bridges are arguably the simplest way to replace a missing tooth. They can even bring back two or three lost teeth in a row! Once your dentist has anchored this lifelike prosthetic on top of the remaining teeth at either end of the gap in your smile, you can expect your bridge to last for several years. However, this solution won't last forever. Even with the best care, it will eventually need to be repaired or replaced. Read on to learn some of the causes, signs, and ways to prevent dental bridge failure.
Reasons Why a Dental Bridge Might Fail
The most common cause of dental bridge failure is poor oral hygiene. Without adequate brushing and flossing, bacteria can travel beneath the bridge and lead to decay in the teeth under your bridge (also known as your abutment teeth). If these teeth become too weak, they can no longer support your restoration.
Another reason why a bridge might fail is a lack of regular dental checkups and cleanings. When you visit your dentist every six months, they can spot problems with your bridge early enough that it can likely be saved. Not attending these appointments allows the problem to worsen until the bridge ultimately fails.
Lastly, certain bad habits can jeopardize a dental bridge. Smoking or chewing tobacco can inflame your gums and weaken your teeth, while eating ice or grinding your teeth at night can wear down your bridge.
Signs That Your Dental Bridge Needs Repair
On average, dental bridges last for five to ten years. Here are some signs that your bridge might need to be repaired or replaced before then:
Sensitivity in the teeth or gums near your bridge
Pain when chewing or brushing
Chips or cracks in the bridge
Feeling like your bridge is loose
If you notice any of these signs, call your dentist right away. The sooner you seek help, the more likely it is that your bridge can be saved.
How to Prevent Dental Bridge Failure
Generally, taking care of a dental bridge doesn't involve anything that you shouldn't already be doing to maintain a healthy smile. Daily brushing, flossing, and rinsing with mouthwash go a long way toward preventing plaque buildup. Ask your dentist for recommendations on special flossing tools to clean the area between your bridge and your gums. You'll also want to keep up with your routine dental checkups and avoid harmful habits that could damage your bridge or remaining teeth.
A dental bridge is a wonderful way to restore the natural appearance and function of a complete smile. Make sure you're doing all that you can to protect your investment and prevent dental bridge failure!
About the Author
As an experienced general dentist in Falmouth, ME, Dr. Rob McVety understands the importance of preventive dental care. After earning his doctorate from the University of Connecticut School of Dental Medicine, he completed a General Practice Residency at the Veterans Hospital in Denver, CO. There, he underwent advanced training in restorative dentistry, which includes dental bridges. To learn more about making your dental bridge last, you can contact his practice, Casco Bay Smiles, at (207) 517-7008.