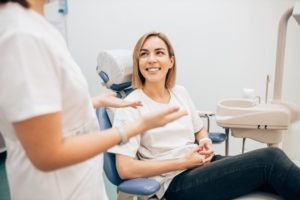 With summer almost here, now is the perfect time to consider getting cosmetic dentistry work done. Then, by the time the weddings, graduations, and vacations roll around, you won't feel self-conscious about the way your teeth look. But where do you start? The first step is scheduling a consultation with your cosmetic dentist. You'll have an opportunity to find out anything you want about possible treatments, but are you prepared? To get the most out of your cosmetic dental consultation in Falmouth, be sure to ask your dentist these questions.
1. What Treatments Do You Offer?
Every smile has different needs, so there's no universal cosmetic dental treatment that's perfect for everyone. The procedure that's more ideal for you will vary depending on the specific flaws you want to correct, like chipped teeth, gaps, or stains.
2. Am I a Good Candidate for the Treatment I Want?
At your visit, your dentist can explore your options for achieving the specific goals you have for your smile. However, feel free to ask if you're a good candidate for a certain procedure. Find out what exactly the procedure entails so you can be sure it's the best option for you.
3. What Are the Benefits of This Treatment?
Each cosmetic dental treatment has its own unique advantages over others. Ask your dentist to explain the various benefits of one treatment compared to your other options.
4. Does This Treatment Come with Any Risks?
Similarly, each treatment has its drawbacks. While your dentist takes every precaution to ensure your safety, certain procedures carry risks. If you choose veneers, for example, you'll wear temporary veneers while your permanent ones are being created in a dental lab. During these few weeks, you'll have to avoid certain foods to prevent the veneers from coming off and exposing the sensitive tooth enamel underneath.
5. Can I See Some Examples of Your Work?
Most cosmetic dentists have photos of several patients before and after getting a smile makeover. Look for a patient whose "before" smile resembles yours to get a good idea of what to expect.
6. How Much Will My Treatment Cost?
Usually, dental insurance won't cover cosmetic treatments, but it never hurts to ask your dental team to double-check. If you need assistance fitting the cost of your care into your budget, your dentist probably has other financing options, such as low-interest payment plans through CareCredit.
Now that you know which questions to ask at your cosmetic dental consultation in Falmouth, the next step is to go ahead and schedule it. Then, you can begin your journey to achieving a smile you can be proud of this summer and beyond!
About the Author
Dr. Rob McVety is an experienced cosmetic dentist in Falmouth, ME who obtained his doctorate from the University of Connecticut School of Dental Medicine. As a member of the American Academy of Cosmetic Dentistry, he has transformed countless smiles with the variety of cosmetic services he provides, including Invisalign, teeth whitening, and gum recontouring. To learn more about your cosmetic dentistry options, contact Casco Bay Smiles at (207) 517-7008.