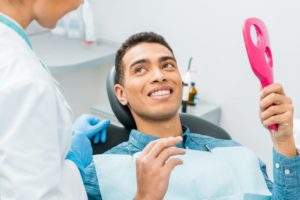 What are your plans for 2021? Perhaps you are hoping for a return to normalcy after COVID-19, or maybe you have set some ambitious goals for your career or fitness. Here is another reasonable item you might add to your to-do list in the new year: take great care of your oral health. Let's talk about some of the benefits you can experience for both your smile and your budget when you schedule a dental checkup in Falmouth early in 2021.
Take Full Advantage of Your Insurance
Most dental insurance policies reset on January 1, which means that you have a brand-new set of benefits to take advantage of. Scheduling a checkup soon may enable you to meet your deductible so you will not have to worry about it for the rest of the year. Plus, most dental policies allow patients to attend two cleanings and checkups each year. By scheduling one appointment now, you'll have plenty of time left in 2021 to attend your second preventive visit. You'll avoid missing out on valuable benefits!
Learn About Your Dental Health
Many people love to indulge in a variety of delicious foods during November and December. Unfortunately, a lot of popular holiday foods, such as candy canes and sugary-filled drinks, are bad for teeth. Additionally, stress is common in the festive season, and stressed individuals are more likely to engage in bruxism (teeth grinding and clenching).
Getting a checkup now will let you know whether your dental health has changed recently, and you might be able to get any problems treated before they become serious. You will thereby spare yourself from pain and perhaps even save money by avoiding the need for major dental work down the road.
Set Strategic Goals
It's easy to perform at-home oral hygiene without really thinking about it. While it's good to have brushing and flossing ingrained in your daily routine, there might be room for improvement in the way you care for your teeth at home. During your appointment, your hygienist or dentist will look for signs that you should adjust the way you clean your teeth, and they can offer product recommendations to help you care for your smile in the best way possible.
Feel Refreshed
Up here in the cold north, it's easy for people to get a case of the winter blues. Attending a professional cleaning will get rid of some of the surface stains on your teeth and give you that great fresh-from-the-dentist feeling. It might be the little boost you need!
Taking care of your oral health is one of the best goals you can set! Start 2021 off right by scheduling a visit with your dentist in Falmouth.
Meet the Dentist
Dr. Rob McVety is an experienced general dentist in Falmouth. He enjoys helping patients care for both their oral and overall health, and he places a heavy emphasis on the importance of preventive care. If you would like to learn more about Dr. McVety and how he may be able to serve you, contact Casco Bay Smiles at 207-517-7008.