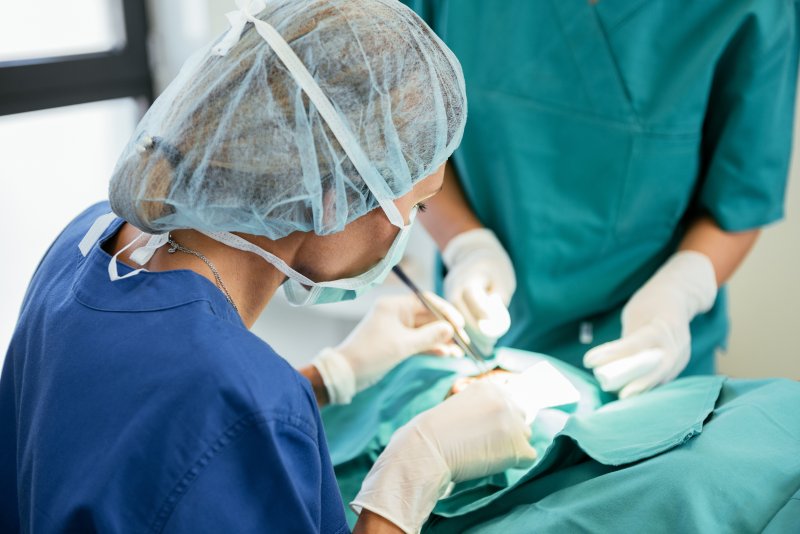 Preparing to undergo dental implant surgery? Unsure what you can expect after they are in place and you are at home recovering? This is a normal feeling for many patients, but fortunately, your dentist will provide detailed information to ensure your time spent healing is quick and successful. In this article, we will look at 5 common questions asked by patients about post-operative care. Hopefully, this information will help you feel more confident about your decision to choose dental implants to repair and restore your smile.
1. Will I Need Someone to Escort Me Home After My Appointment?
Yes, you will most certainly need a family member or friend to escort you to and from your appointment. Your dentist will administer anesthesia before starting the process of implant placement, and the effects can take some time to wear off. Because you will still feel sleepy and may even experience slightly blurred vision after the procedure, it is strongly advised that you have someone take you home and avoid driving for at least 24 hours.
2. Will I Be Required to Take Antibiotics?
Before receiving dental implants or getting a bone graft, antibiotics are necessary to prevent infection. Your dentist will provide detailed instructions regarding how much and when you should take your medication. Unless otherwise noted, make sure to follow the dosage directions and continue taking the antibiotics until they are finished. Should you develop a reaction, don't be afraid to contact the dental office for further instructions.
3. How Should I Handle My Oral Hygiene?
Once your dental implants are in place, they will need ample time to fuse to the bone and surrounding tissues in a process known as osseointegration. While you might assume brushing isn't a good idea, you should not avoid practicing good oral hygiene during this time. Instead, it is advised that you brush your teeth after the first 24 hours have passed. To encourage faster healing, it is also helpful to rinse your mouth with mild saltwater. Just be careful around the surgery site(s).
4. Will I Need to See My Dentist in the Weeks After Surgery?
Yes, you will be required to see your dental team 2-3 weeks after surgery. This appointment will allow them to examine the implant site(s) and ensure everything is healing appropriately. Over the course of the 3-6 months you will be recovering, you will return to have your metal abutments put into place as well as your final restoration, giving you a fully restored smile.
5. When Will I Be Able to Resume Normal Activities?
To avoid the potential for harm or injury, it is advised that you avoid strenuous activity for at least 3 days or more. Typically, light activity is possible after the initial 24 hours, but you want to be mindful of how you're feeling. If you feel fatigued or have difficulty focusing on a particular task, it may be due to the medication you are taking, which means you will need to hold off on driving or performing other similar activities for a while longer.
Now that you have a better understanding of the post-operative process, you can prepare for what lies ahead after your dental implant surgery. Of course, you're always encouraged to contact your dentist if you have any questions that are not covered here.
About the Author
Earning his undergraduate degree at Bates College, Dr. Rob McVety pursued a doctorate at the University of Connecticut School of Dental Medicine. He also received advanced training in implant placement and restoration during a General Practice Residency at the Veterans Hospital in Denver. Dr. McVety and his team want you to feel confident about your decision to replace your missing teeth with dental implants. They will provide you with all the necessary post-operative information for a swift and successful recovery. If you would like to know more about life after implant placement, contact us at (207) 517-7008.