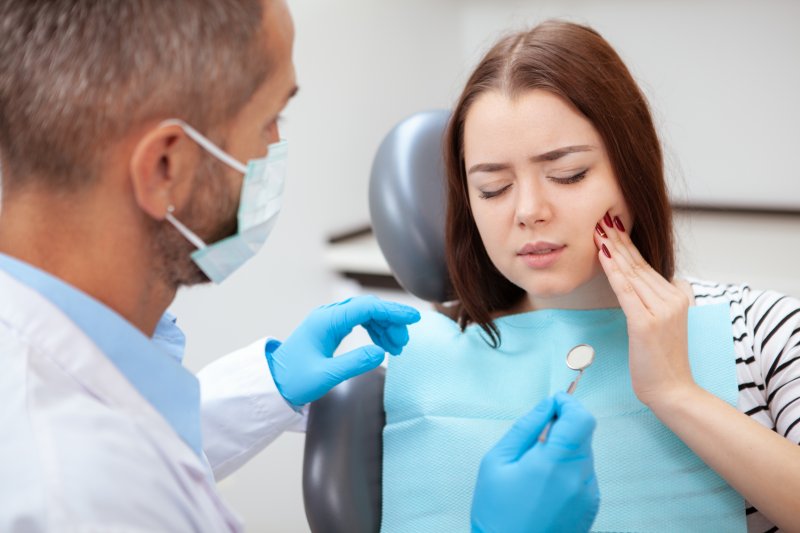 According to the American Dental Association, roughly 5 million dental emergencies happen in sports-related accidents alone! Whether you wake up to pain in your mouth or crack your tooth on hard candy, these accidents can happen at the most inconvenient times. Therefore, it is important to protect your smile with proven tactics. Your dentist shares seven tips you can use to prevent a dental emergency from happening to you.
Prioritize Your Oral Hygiene Routine
In our everyday lives, proper dental care often falls to the back burner. However, when your brushing and flossing routine is left to lazy mornings and tired evenings, it can lead to improper technique. Although it can seem inconvenient when your schedule becomes demanding, it can make all the difference in preventing cavities, tooth decay, and infection. Therefore, make sure to:
Brush for two minutes at least twice a day.
Floss daily.
Clean your tongue with a toothbrush or tongue scraper.
Use mouthwash frequently.
Avoid Bad Dental Habits
Even the most thorough oral hygiene routine can't undo the damage that bad dental habits have on your teeth. Unhealthy stress-relief tactics, like smoking or biting your nails, can gradually cause wear and tear on your teeth that can at a moment's notice lead to a dental emergency. Therefore, it is best to avoid these habits altogether. Instead, opt for some sugar-free gum the next time you feel anxious.
Replace Your Toothbrush Regularly
Did you know the American Dental Association recommends replacing your toothbrush every three to four months? This prevents the bacteria that collect on your toothbrush from constantly being reintroduced to your mouth, which can render your brushing routine virtually ineffective. So, it is important to set a reminder on your phone or opt for an electric toothbrush that has a built-in wear indicator for your convenience!
Visit Your Dentist Bi-Yearly
Visiting your dentist twice a year isn't just a guideline; it is a crucial component of your oral health regimen. When these visits are skipped, damage to your teeth can go untreated and cause severe dental injuries that could've been avoided with early intervention. Therefore, make sure to schedule an appointment with your dentist twice a year for a thorough exam and professional cleaning.
Reduce Your Sugar Intake
When sugar interacts with the bacteria in your mouth, it creates acids that eat away at the enamel on your teeth. This leaves them vulnerable to a multitude of dental issues, including erosion, tooth decay, and cavities. To prevent this from occurring, try opting for sugar-free options when available.
Where a Mouthguard While Playing Sports
According to the Journal of the American Dental Association, up to 39% of all dental injuries are sports-related. To avoid a knocked-out, chipped, or cracked tooth, always wear a mouthguard while playing sports. Although there are generic options available at your local store, it can be beneficial to speak with your dentist about creating a custom mouthguard. This will give your teeth the maximum protection they need.
Don't Ignore Dental Pain or Changes to Your Teeth
It is important to take note of changes to your teeth and gums. While it can seem insignificant, these symptoms could be stemming from a more serious dental issue. Although it can be tempting to write it off, make sure to talk to your dentist about dental pain, moving teeth, or any other abnormal symptoms.
To avoid panic-inducing, sudden dental injuries it is important to prioritize your oral care. Do your part in protecting your teeth and gums by following the above seven steps for preventing a dental emergency!
About the Author
In addition to obtaining his doctorate at the University of Connecticut School of Dental Medicine, Dr. Rob McVety has also received advanced training in implant placement and restoration, advanced gum disease treatment, and restorative dentistry. He is currently a member of many prestigious dental organizations, like the Maine Dental Association, and has extensive experience in emergency dentistry. If you or a loved one needs to schedule a same-day appointment to fix a dental injury, visit his website or give him a call at 207-517-7008.