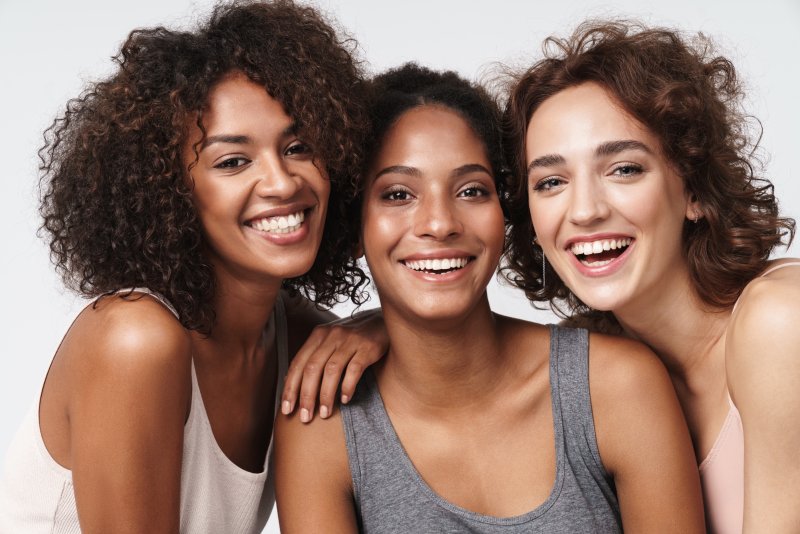 Tooth decay, blows to the mouth, unfortunate falls, aging, and simple wear and tear – these are just a few things that can leave your teeth looking tired and damaged. You may find yourself hiding your mouth in embarrassment whenever you laugh or smile as a result. Why live with your imperfect grin when your cosmetic dentist in Falmouth could have a solution? Read on to learn about 6 treatments that can improve the appearance of your smile – and in some cases might even leave it healthier than before!
1. Crowns
Older crowns may have been made out of gold or other metals, but today's dentists generally favor porcelain or a tooth-colored ceramic. Not only can they be used to repair a broken or weakened tooth so that it can continue to withstand the forces of biting and chewing, but they can hide cracks, stains, and other flaws all at once!
2. Veneers
Unlike crowns, which cover the entire tooth, a veneer is only placed on the front surface; this limits the amount of enamel that needs to be removed to make room for the restoration. Veneers are extremely versatile and can correct small gaps, dental damage, discoloration, and even slight alignment issues; we'll often recommend them if you're looking to make significant changes to your teeth.
3. Invisalign
When it comes to crooked teeth, an orthodontic treatment is usually the best way to enhance your appearance while also avoiding long-term health issues. Ask your dentist if you can get Invisalign in place of traditional braces; these clear aligners can easily be worn without drawing unnecessary attention, and they can be an excellent way to straighten your smile and correct any other mild to moderate orthodontic issues.
4. Teeth Whitening
Whiter teeth may not have any health benefits, but they can still make a powerful first impression! Talk to your dentist about the professional whitening treatments they offer; this may include an in-office procedure or a take-home kit that contains whitening gel and customized trays.
5. Dental Bonding
Veneers and crowns are useful for improving teeth that need multiple corrections, but if there are only a few minor flaws that you need to take care of, dental bonding is a good option. Using a natural-looking composite resin, stains and cracks can be quickly hidden over the course of a single appointment.
6. Implants
Fixing an existing tooth is one thing, but when there's a gap in your grin, you need to find a reliable replacement as soon as you can. For many, this means getting a dental implant – a sturdy titanium post that can hold prosthetic teeth firmly in place for maximum strength and stability.
Are you ready for a smile makeover but don't know where to start? Call your dentist in Falmouth and ask for a consultation so that you can explore all the different options and find the one that best fits your unique needs.
About the Author
Dr. Rob McVety always looks forward to helping his patients improve their smiles. He is currently a member of the American Academy of Cosmetic Dentistry and the American Academy of Implant Dentistry. His practice, Casco Bay Smiles, offers veneers, Invisalign, and many other cosmetic services. To schedule a consultation, visit his website or call (207) 517-7008.