Single Tooth Implants – Falmouth, ME
Completely Replacing Individual Teeth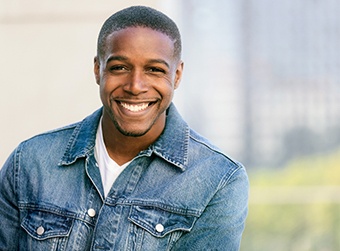 Losing a tooth should always be treated as a big deal. Without the tooth, the jaw will start to lose its bone density and could eventually break down to the point where it affects your appearance. Your remaining teeth could suffer as well; not only will they shift out of their proper alignment, but they'll be exposed to the additional stress and strain that comes from the forces of your bite being distributed improperly. Dr. McVety is all too familiar with the long-term damage that missing teeth can cause, so to make sure you keep enjoying life to the fullest, he is ready to repair your smile with a single dental implant. Call us today to schedule your first implant consultation.
Single Tooth Replacement Options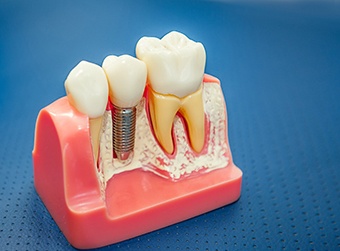 There are two main options for replacing one missing tooth: a fixed bridge or a single tooth implant. A fixed bridge is the more traditional choice. It's made of a pair of crowns that hold a prosthetic tooth between them. In order for the prosthetic to fill the gap, the crowns need to be attached to the teeth on either side of the gap. Naturally, this procedure only works if the adjacent teeth are still healthy enough to support a restoration on their own. Furthermore, in order to make room for the crowns, the teeth need to be altered by removing small amounts of enamel.
Patients with healthy gums and a sufficient level of jawbone density can choose to get single tooth implants. An implant is normally made of titanium and is inserted directly into the jaw so that it can fuse with the bone. The function of the implant is to act as a new tooth root for a dental crown. The surgery to receive the implant is typically minimally invasive, but it will take about three to four months for it to join with the bone; the crown can only be attached once the implant is firmly in place.
Benefits of Implant-Supported Single Tooth Replacement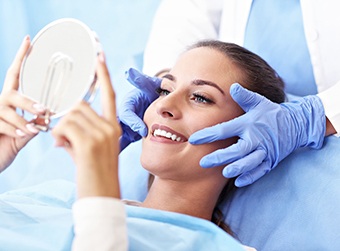 By choosing an implant over a fixed bridge, you can keep the dental structure of your remaining teeth intact. The implant itself will help keep the surrounding gum and bone tissue healthy, and it will feel more like a natural part of your mouth as you use to speak, chew, and smile. You can expect a dental implant to last for 30 years or more if you give it proper care.